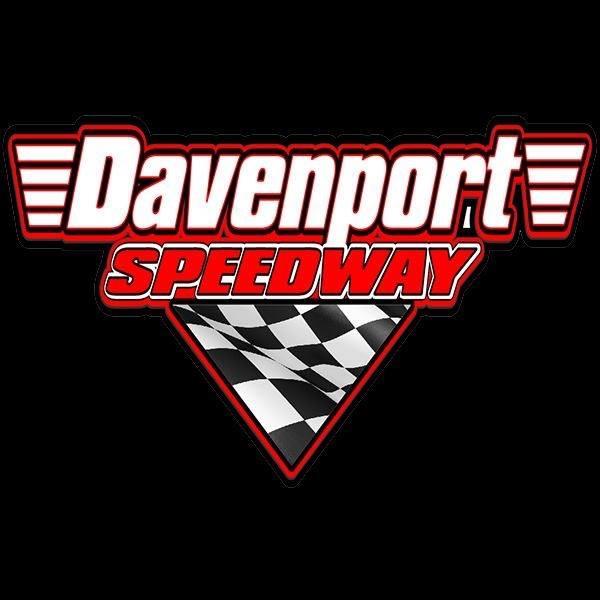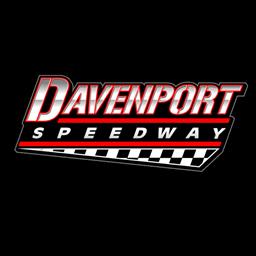 7/12/2019
Davenport Speedway
---
Kay & Aikey take $1000 checks at Davenport
Davenport, IA (July 12) - 110 cars signed in to do battle at the Davenport Speedway Friday July 12th. The track was in great shape, pits were full, and the stands were packed waiting for a great night of 2 and 3 wide racing!
Three heat races set the 20 car Petersen Plumbing IMCA Late Model feature. 6 of the top 10 in national points were on hand to battle it out. Tim Simpson and Justin Kay drew the front for the 25 lap $1000 to win a main. Justin Kay jumped out to an early lead and led all 25 laps leaving 2nd place to be decided between national point contenders Matt Ryan and York Nebraska's Cory Dumpert. Dumpert in the 77 started 9th and would have to work his way through the field. A lap 17 caution allowed Dumpert to take over the 3rd place position, and he went to work on taking 2nd from Ryan. When the Checker flag flew, Justin Kay in the 15k took the $1000.00 pay day followed by Cory Dumpert 2nd, Matt Ryan 3rd, Tyler Bruening and Brian Harris rounded out the top 5. Heat race winners were Tyler Bruening, Matt Ryan, and Justin Kay.
40 Eriksen Chevrolet IMCA Modifieds made the trip to chase the $1000 pay day sponsored by Shultz Trucking and Randy's Auto Plaza. Chris Zogg and Tyler Madigan drew the front row after 4 heat races and 2 b-mains. Zogg put the 9z out front early with the 19g of Richie Gustin Chasing closely. Gustin took the lead around lap 5 but never got comfortable with Zogg running a tight 2nd place. A mid race caution for a car on fire, put 11th place starter Jeff Aikey in the mix looking for the front as well. Aikey put the 77-out front on lap 11 with Gustin and Zogg a close second and third. Jeff Aikey held on to take the win, Chris Zogg was able to get under Gustin on the last lap to take 2nd, Richie Gustin, Kollin Hibdon, and Justin Kay would round out the top 5. Heat Race winners were, Jeff Aikey, Bruce Hanford, Kyle Brown, and Justin Kay. Austin Moyer and David Brown picked up the 2 B Main races.
Rick Schriner and Randy Lamar led the 14 car Koehler Electric Street Stock feature to the drop of the green. 3rd place starter Joe Bonny and Rick Schriner traded the lead for a few laps, allowing Jesse Owen in the 95 to get around them and lead a few. A mid race caution allowed Bonney to put the 70 back out front and take the checkers. Jesse Owen held on for 2nd, Tony Vondresky worked his wat to 32rd followed by Cary Brown and Randy Lamar. Heat race winners were Jeff Struck Jr and Chad Coyne.
26 IMCA Sport Mods made the call Friday night. Aaron Hitt and Ryan Walker drew the front row for their main event. Walker jumped out the early lead trading the top spot for a few laps with Dave Engelkins in the 65, this would allow Tony Olson in the t23 to take the point. A string of cautions let the 3T of Tyler Soppe to work his way to the front from his deep starting spot. Tony Olson was able to lead the remainder of the race with Tyler Soppe eventually taking second away from 3rd place finisher Ryan Walker. Dave Engelkins and Jeremy Gustaf rounded out the top 5. Heat race winners were Tony Olson, Ryan Walker, and Tyler Soppe.
Nick Proehl led all ten laps of the 10 car 4 Cylinder main event. Front row starter Tim long battle many laps with the 47 of Thomas Adams. Nick Proehl took the checkered flag followed by Tim Long second, Thomas Adams help on for third. Josh Lane and Eric Stogdell rounded out the top 5. Heat race winners were Nick Proehl and Josh Lane.
Racing action continues this Friday July 19th with the Petersen Plumbing IMCA Late Model season championship. Thank you to all the fans, drivers and crews that came out to support us last Friday Night. We hope to see all of you back next week.
---
Submitted By: Derek Collum
Back to News