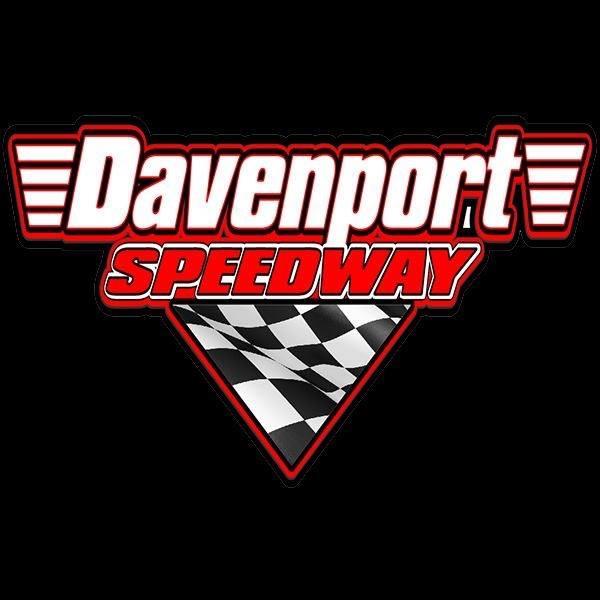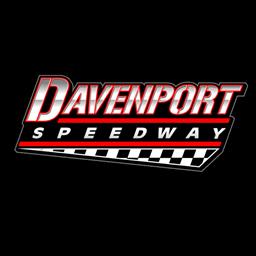 8/7/2020
Davenport Speedway
---
Ryan, Diercks, Paris, Struck, and Starr earn Davenport victories
DAVENPORT, Ia. (August 7, 2020) – Perfect weather and over one hundred racecars put on a great show Friday, at the Davenport Speedway. With a draw/re-draw format being used, number two was the golden ticket. Three of the five feature winners pulled the number two in the re-draw.
In the Petersen Plumbing & Heating IMCA Late Models, Chuck Hanna shot out to the early lead from the pole. Matt Ryan started sixth and quickly worked his way into second. After a lap ten restart, Ryan tried to get under Hanna coming out of turn four, but came up a little short, knocking the nose off Hanna's car and ending his race. Ryan was able to continue and led the remaining laps for the win. Andy Nezworski started tenth and finished second. Joe Zrostlik finished third, ahead of Dave Wada and Kelly Pestka.
Spencer Diercks dominated the Eriksen Chevrolet IMCA Modified feature. Spencer drew the outside pole and led every one of the twenty laps, for the win. Brunson Behning was also rim-riding the high side and drove from ninth to a second place finish. Ryan Duhme ran top five all race long before finishing third. Mitch Morris came home in fourth with Matt Ryan fifth.
The IMCA SportMod feature began with Matt Fulton and Shane Paris in the front row. Fulton grabbed the early lead from the pole. On lap six, Paris powered into the lead and never looked back. Tyler Soppe used a last lap pass to take second from Fulton who would end up in third. Ben Chapman and Jeremy Gustaf completed the first five.
Jeff Struck Jr. led all but one of the fifteen laps of the Koehler Electric Street Stock feature. Struck also drew the two in the re-draw. However it was Jesse Owen who led lap one, and had to settle for a third place finish. Nick Hixson put pressure on Struck a couple of times and ended in second. Gene Ehlers finished fourth with Jake Lund fifth.
Josh Starr started the QCjeeps.com Sport Compact main in the nine spot and drove his way into the lead on lap four. Starr drove away from the field en route to the win. Cyle Hawkins started the race dead last, as he arrived late. Hawkins drove through the field and finished second. Jack Fitzgibbon led laps one through three and took third. Todd Sibley and Norm Marcov finished fourth and fifth respectively.
Next week at Davenport Speedway, not one, but two big shows with the Malvern Bank Super Late Model Racing – Hoker Trucking East Series. Friday, August 14th and Saturday, August 15th, racing is on the quarter-mile track. Modifieds, SportMods, Street Stocks, and Sport Compacts will be in action on both nights. Also expected to appear will be former NASCAR star Ken Schrader in an IMCA Modified.
Results:
Davenport Speedway
August 7, 2020 –
IMCA Late Models
Heat #1: 1. Dave Wada; 2. Andy Nezworski; 3. Don Pataska; 4. Colton Leal; 5. Gary Webb;
Heat #2: 1. Chuck Hanna; 2. Jeff Tharp; 3. Joe Zrostlik; 4. Matt Ryan; 5. Kelly Pestka;
Feature: 1. Matt Ryan; 2. Andy Nezworski; 3. Joe Zrostlik; 4. Dave Wada; 5. Kelly Pestka; 6. Jeff Tharp; 7. Joe Ross; 8. Joel Callahan; 9. Don Pataska; 10. Jacob Waterman; 11. Colton Leal; 12. Gary Webb; 13. Chuck Hanna; 14. Jay Johnson; 15. LeRoy Brenner; 16. Anthony Haines;
IMCA Modifieds
Heat #1: 1. Spencer Diercks; 2. Brunson Behning; 3. Kelly Meyer; 4. Mitch Morris; 5. Ryan Duhme;
Heat #2: 1. Chris Zogg; 2. Kory Meyer; 3. Bob Dominacki; 4. Matt Ryan; 5. Joe Beal;
Feature: 1. Spencer Diercks; 2. Brunson Behning; 3. Ryan Duhme; 4. Mitch Morris; 5. Matt Ryan; 6. Chris Zogg; 7. Joe Beal; 8. Matt Stein; 9. Kory Meyer; 10. Dustin Smith; 11. Bob Dominacki; 12. Chris Lawrence; 13. Jarod Struss; 14. Joe Nemitz; 15. Craig Crawford; 16. Steve Gustaf; 17. Nick Hillyer; 18. Kelly Meyer; 19. Frank Waters; 20. Ray Cox Jr.;
IMCA SportMod
Heat #1: 1. Shane Paris; 2. Jarrett Franzen; 3. Bryan Moreland; 4. Rance Powell; 5. Levi Heath;
Heat #2: 1. Doug Burkhead; 2. Nick Groth; 3. Ryan Walker; 4. Dustin Schram; 5. Kevin Goben;
Heat #3: 1. Ben Chapman; 2. Matt Fulton; 3. Brandon Jewell; 4. Chance Huston; 5. Trey Grimm;
Heat #4: 1. Gage Neal; 2. Jeremy Gustaf; 3. Tyler Soppe; 4. Anthony Franklin; 5. Jared Waterman;
Semi #1: 1. Chance Huston; 2. Rance Powell; 3. Levi Heath; 4. Trey Grimm; 5. Ryan Reed;
Semi #2: 1. Anthony Franklin; 2. Dustin Schram; 3. Jared Waterman; 4. Kevin Goben; 5. Justin Becker;
Feature: 1. Shane Paris; 2. Tyler Soppe; 3. Matt Fulton; 4. Ben Chapman; 5. Jeremy Gustaf; 6. Doug Burkhead; 7. Ryan Walker; 8. Gage Neal; 9. Bryan Moreland; 10. Chance Huston; 11. Dustin Schram; 12. Brndon Jewell; 13. Anthony Franklin; 14. Rance Powell; 15. Ryan Reed; 16. Jared Waterman; 17. Justin Becker; 18. Kevin Goben; 19. Trey Grimm; 20. Randy Farrell; 21. Nick Groth; 22. Levi Heath; 23. Jed Frederick; 24. Jarrett Franzen;
Street Stocks
Heat #1: 1. Jeff Struck Jr.; 2. Donnie Louck; 3. Jeremy Gustaf; 4. Austin Riggs; 5. Jake Lund;
Heat #2: 1. Nick Hixson; 2. Jesse Owen; 3. Gene Ehlers; 4. Frank Waters; 5. Tony VonDresky;
Feature: 1. Jeff Struck Jr.; 2. Nick Hixson; 3. Jesse Owen; 4. Gene Ehlers; 5. Jake Lund; 6. Tony VonDresky; 7. Frank Waters; 8. Jim Parr; 9. Alex Pappas; 10. Scott Blake; 11. Phillip Schneider; 12. Veronica Anderson; 13. Donnie Louck; 14. Nick Claussen; 15. Jacob Beal; 16. Tom Riggs; 17. Austin Riggs; 18. Erick Turner; (1-DNS)
Sport Compacts
Heat #1: 1. Todd Sibley; 2. Norm Marcov; 3. Tim Sibley; 4. Shawn McDermott; 5. Ashley Reuman;
Heat #2: 1. Josh Starr; 2. Jack Fitzgibbon; 3. Eric Stogdell; 4. Brad McDermott Jr.; 5. Mike Snyder;
Feature: 1. Josh Starr; 2. Cyle Hawkins; 3. Jack Fitzgibbon; 4. Todd Sibley; 5. Norm Marcov; 6. Tim Sibley; 7. Shawn McDermott; 8. Blake Dotson; 9. Eric Stogdell; 10. Ashley Reuman; 11. Jason Rhoads; 12. William McPherson; 13. Scott Delles; 14. Mike Snyder; 15. Travis Smith; (3-DNS)
---
Article Credit: Mike McGuire
Submitted By: Derek Collum
Back to News