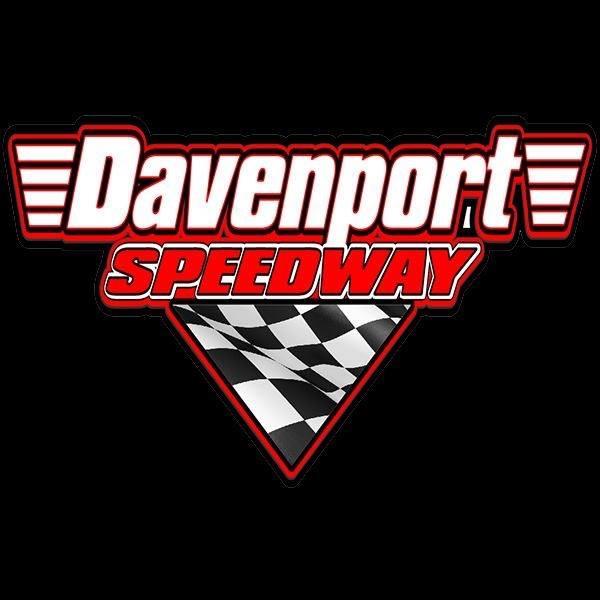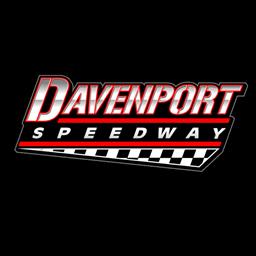 8/21/2020
Davenport Speedway
---
Diercks wins Weedon Memorial at Davenport Speedway
DAVENPORT, Ia. (August 21, 2020) – A racing milestone was reached Friday, at the Davenport Speedway. Friday, was the 100th anniversary of the first automobile race at the Mississippi Valley Fairgrounds. It was also time for the 15th Weedon Memorial, honoring local racing legend Ronnie Weedon. IMCA Modifieds were the featured class, with a huge trophy and a $1,500 prize awaiting the winner.
The Eriksen Chevrolet IMCA Modified feature started with Jason Bahrs grabbing the early lead. Bahrs led through the first nine laps and two caution periods. On lap ten, Spencer Diercks went to the front. Despite a lap twelve caution, Diercks pulled away from the field and had a full straightaway lead at the checkers.
Jeff Aikey started tenth, but worked his way up to a second place finish. Bahrs held on to finish third, followed by Chris Zogg and Mitch Morris. Bahrs, Diercks, and Darin Duffy won Mod heat races.
Justin Kay used several lapped cars to pass Matt Ryan and win the Petersen Plumbing & Heating IMCA Late Model feature. Kay had been running third behind Ryan and Chuck Hanna. When the lapped cars came into play, Kay dove to the bottom, moving from third to first. The victory was Kay's seventh of the year at Davenport.
Ryan held on to finish second with Hanna taking third. Logan Duffy and Eric Sanders completed the top five.
Tyler Soppe returned to victory lane in the IMCA SportMod feature. Jeremy Gustaf led lap one and Dustin Schram laps two and three. After a lap four restart, Soppe grabbed the lead and never looked back. Ben Chapman would finish second with Kevin Goben third. Dustin Schram and Brandon Jewell were fourth and fifth respectively.
Nick Hixson captured his sixth Davenport feature of the year in Koehler Electric Street Stock action. Hixson took the lead from Tony VonDresky on lap three, en route to the victory. Jeff Struck Jr. finished second again. VonDresky, Jesse Owen, and Joe Bonney finished third through fifth respectively.
The QCjeeps.com Sport Compacts were racing for a $500 prize, that went to Jimmy Dutlinger. Joe Zrostlik and Jake Benischek were battling for the lead on a lap four restart when the two cars made contact, bringing out the yellow. Dutlinger inherited the lead and led the rest of the way to the checkers. Jack Fitzgibbon took second, followed by Zrostlik and Benischek. Brandon Dahl completed the top five.
The Nostalgic Stock Car Racing Club was in action with Ray Guss Jr. taking the victory over Andrew Hamburg and Mark Claeys.
One more race remains for K Promotions at the Davenport Speedway this season. All five weekly classes will be in action. Street Stocks will be competing for $1,000-to-win. Next weekend is also Fair Food Fest at the Mississippi Valley Fairgrounds. Come out for fast cars and funnel cakes.
Results:
Davenport Speedway
August 21, 2020 –
IMCA Late Models
Heat #1: 1. Matt Ryan; 2. Joe Ross; 3. LeRoy Brenner; 4. Ryan Claeys; 5. Eric Sanders;
Heat #2: 1. Justin Kay; 2. Logan Duffy; 3. Chuck Hanna; 4. Dave Hammond; 5. Jacob Waterman;
Feature: 1. Justin Kay; 2. Matt Ryan; 3. Chuck Hanna; 4. Logan Duffy; 5. Eric Sanders; 6. Joe Ross; 7. LeRoy Brenner; 8. Ryan Claeys; 9. Jacob Waterman; 10. Dave Hammond; 11. Anthony Haines;
IMCA Modifieds
Heat #1: 1. Jason Bahrs; 2. Jarod Struss; 3. Ray Cox Jr.; 4. Todd Dykema; 5. Joe Beal;
Heat #2: 1. Spencer Diercks; 2. Jeff Aikey; 3. Timmy Current; 4. Mitch Morris; 5. Killin Hibdon;
Heat #3: 1. Darin Duffy; 2. Ryan Duhme; 3. Eric Barnes; 4. Chris Zogg; 5. Kelly Meyer;
Semi #1: 1. Jason Pershy; 2. Brunson Behning; 3. Matt Werner; 4. Matt Short; 5. Matt Stein;
Feature: 1. Spencer Diercks; 2. Jeff Aikey; 3. Jason Bahrs; 4. Chris Zogg; 5. Mitch Morris; 6. Darin Duffy; 7. Ryan Duhme; 8. Kollin Hibdon; 9. Brunson Behning; 10. Eric Barnes; 11. Matt Werner; 12. Ray Cox Jr.; 13. Kelly Meyer; 14. Matt Stein; 15. Matt Short; 16. Bob Dominacki; 17. Justin Veloz; 18. Chris Lawrence; 19. Todd Dykema; 20. Jarod Struss; 21. Jason Pershy; 22. Timmy Current; 23. Joe Beal; 24. Nathan Hall;
IMCA SportMod
Heat #1: 1. Doug Burkhead; 2. Jeremy Gustaf; 3. Perry Gellerstedt; 4. Randy Farrell; 5. Levi Heath;
Heat #2: 1. Anthony Franklin; 2. Kevin Goben; 3. Ryan Walker; 4. Ryan Reed; 5. Brad Salisberry;
Heat #3: 1. Tyler Soppe; 2. Ben Chapman; 3. Brandon Jewell; 4. Dustin Schram; 5. Nick Groth;
Semi #1: 1. Trey Grimm; 2. Paul Howard; 3. Michael Heister; 4. Henry Carson; 5. Dakota Cole;
Feature: 1. Tyler Soppe; 2. Ben Chapman; 3. Kevin Goben; 4. Dustin Schram; 5. Brandon Jewell; 6. Perry Gelerstedt; 7. Doug Burkhead; 8. Randy Farrell; 9. Jeremy Gustaf; 10. Dakota Cole; 11. Levi Heath; 12. Paul Howard; 13. Ryan Walker; 14. Anthony Franklin; 15. Rance Powell; 16. Nick Groth; 17. Michael Heister; 18. Brad Salisberry; 19. Alex VerVynck; 20. Tony Kraklio; 21. Henry Carson; 22. Ryan Reed; 23. Trey Grimm; 24. Bryan Ritter;
Street Stocks
Heat #1: 1. Nick Hixson; 2. Tony VonDresky; 3. Jesse Owen; 4. Joe Bonney; 5. Tom Riggs;
Heat #2: 1. Jeff Struck Jr.; 2. Jake Lund; 3. Austin Riggs; 4. Frank Waters; 5. Phillip Schneider;
Feature: 1. Nick Hixson; 2. Jeff Struck Jr.; 3. Tony Von Dresky; 4. Jesse Owen; 5. Joe Bonney; 6. Frank Waters; 7. Nick Proehl; 8. Jake Lund; 9. Phillip Schneider; 10. Austin Riggs; 11. Jim Parr; 12. Tom Riggs; (1-DNS)
Sport Compacts
Heat #1: 1. Jake Benischek; 2. Joe Zrostlik; 3. Travis Hawkins; 4. Cyle Hawkins; 5. Codie Proehl;
Heat #2: 1. Josh Riley; 2. Jimmy Dutlinger; 3. Jack Fitzgibbon; 4. Tim Sibley; 5. Brandon Dahl;
Feature: 1. Jimmy Dutlinger; 2. Jack Fitzgibbon; 3. Joe Zrostlik; 4. Jake Benischek; 5. Brandon Dahl; 6. Todd Sibley; 7. Cyle Hawkins; 8. Tommy Staggs; 9. Jason Rhoads; 10. Codie Proehl; 11. Drew Wise; 12. Travis Hawkins; 13. Tim Sibley; 14. Shawn McDermott; 15. Josh Riley; (1-DQ) (2-DNS)
N.S.C.R.C.
Heat #1: 1. Tom Honts; 2. Mark Claeys; 3. Rick Barto;
Heat #2: 1. Ray Guss Jr.; 2. Andrew Hamburg; 3. Jeff Walker;
Feature: 1. Ray Guss Jr.; 2. Andrew Hamburg; 3. Mark Claeys; 4. Matt Ramer; 5. Jeff Walker
---
Article Credit: Mike McGuire
Submitted By: Derek Collum
Back to News