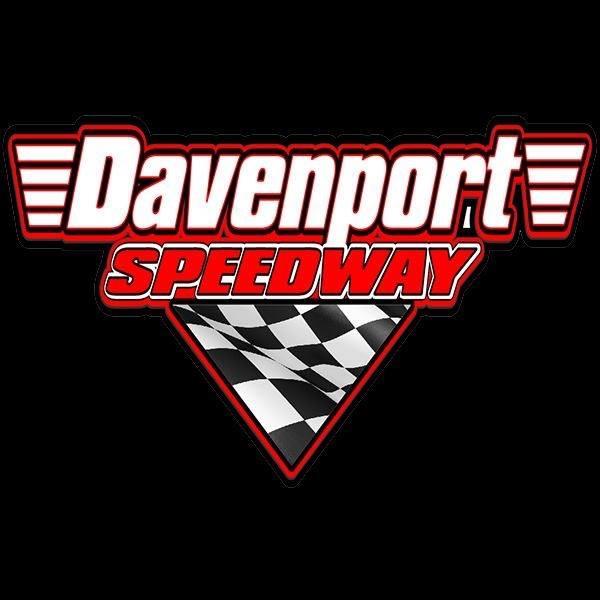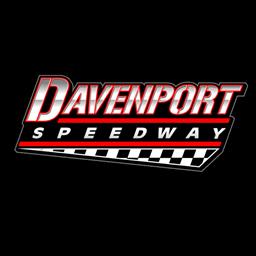 11/6/2020
Davenport Speedway
---
Aikey scores win at "Dirt in November"
DAVENPORT, Ia. (November 6, 2020) – The unusually warm November weather gave local stock car racers one more chance to compete Friday night at the Davenport Speedway. "Dirt in November" was a joint effort by K Promotions and Darkside Promotions. One hundred and thirty-one racers showed up to take on the Davenport dirt one more time in 2020.
The Modified feature was the finale of the evening, with Steve Gustaf and Kelly Meyer leading the field to the green flag. Denny Eckrich spent a couple laps at the front before yielding to Jeff Aikey and Tyler Droste. Aikey and Droste swapped the lead several times before Aikey would pull away for good. The Cedar Falls racer led the rest of the way to the checkers.
The most impressive drive of the night belonged to second place finisher Spencer Diercks. Diercks was involved in a lap two incident and had to restart at the rear. Spencer used every inch of the high groove to rally back and was closing in on the leader at the finish.
Droste held on to finish third, followed by Matt Werner and Jason Bahrs.
Thirty-nine SportMods were on hand. Tyler Soppe dominated the class, winning both his heat and the feature. Soppe's most intense challenge came from Kyle Olson, who was involved in a late race scuffle that dropped him to a fifteenth place finish. The battle for second went to Sean Wyett over third place Jared Boumeester of Minnesota. Ryan Reed took fourth, with Brayton Carter rounding out the top five.
Stock cars put on a good show in their feature. Jesse Owen sprinted out to the early lead from his front row starting spot. However he was quickly tracked down and passed by Jeff Struck Jr.
Struck's car seem to slow allowing Owen to again take the lead and a couple laps later the victory. Struck held on to finish second, ahead of Rob Henry, John Oliver Jr., and Joe Bonney, in that order.
The Hobby Stock feature came down to a last lap pass by Daniel Wauters on Kaden Reynolds. Wauters made the pass in turn four to take the win. Russ Olson, Randy LaMar, and Brandon White finished third through fifth respectively.
Josh Starr drove to a win in the Sport Compact main. Starr had to fend off Cyle Hawkins to take the win. Aaron Hitt finished third.
Results:
Davenport Speedway
November 6, 2020 –
IMCA Modifieds
Heat #1: 1. Chris Lawrence; 2. Denny Eckrich; 3. Troy Cordes; 4. Brandon Durbin; 5. Jaden Fryer;
Heat #2: 1. Jason Bahrs; 2. Spencer Diercks; 3. Kelly Meyer; 4. Steve Gustaf; 5. Ray Cox Jr.;
Heat #3: 1. Jeff Aikey; 2. Matt Werner; 3. Tyler Droste; 4. Brad Moring; 5. Ryan Maitland;
Semi #1: 1. Dakota Simmons; 2. Kye Madden; 3. Bob Dominacki; 4. Jordan Walker; 5. Doug Lenth;
Feature: 1. Jeff Aikey; 2. Spencer Diercks; 3. Tyler Droste; 4. Matt Werner; 5. Jason Bahrs; 6. Dakota Simmons; 7. Ryan Maitland; 8. Jaden Fryer; 9. Brandon Durbin; 10. Jordan Walker; 11. Ray Cox Jr.; 12. Doug Lenth; 13. Brad Moring; 14. Matt Short; 15. Jim Sandusky; 16. Andy Nezworski; 17. Kelly Meyer; 18. Bob Dominacki; 19. TJ Patz; 20. Denny Eckrich; 21. Kyle Madden; 22. Troy Cordes; 23. Steve Gustaf; 24. Chris Lawrence;
IMCA SportMod
Heat #1: 1. Mike Garland; 2. Scott Busch; 3. Jacob Copley; 4. Phil Anderson; 5. Jarett Franzen;
Heat #2: 1. Sean Wyett; 2. Jeremy Gustaf; 3. Justin Becker; 4. Tony Olson; 5. Joe Grant;
Heat #3: 1. Tyler Soppe; 2. Jared Boumeester; 3. Logan Anderson; 4. Dylan VanWyk; 5. Clint Morehouse;
Heat #4: 1. Kyle Olson; 2. Brayton Carter; 3. Ryan Reed; 4. Ryan Walker; 5. Chance Huston;
Semi #1: 1. Jarett Franzen; 2. Ben Chapman; 3. Clint Morehouse; 4. Ryan King; 5. Brad Salisberry;
Semi #2: 1. Chance Huston; 2. Joe Grant; 3. CJ Durbin; 4. Dakota Cole; 5. Barry Bates;
Feature: 1. Tyler Soppe; 2. Sean Wyett; 3. Jared Boomeester; 4. Ryan Reed; 5. Brayton Carter; 6. Tony Olson; 7. Logan Anderson; 8. Jacob Copley; 9. Ryan Walker; 10. Dylan VanWyk; 11. Scott Busch; 12. Jarett Franzen; 13. Chance Huston; 14. Jeremy Gustaf; 15. Kyle Olson; 16. Clint Morehouse; 17. CJ Durbin; 18. Phil Anderson; 19. Ryan King; 20. Dakota Cole; 21. Joe Grant; 22. Ben Chapman; 23. Mike Garland; 24. Justin Becker;
Stock Cars
Heat #1: 1. Erick Turner; 2. Joe Zrostlik; 3. Wayne Hora; 4. Joe Bonney; 5. Gene Ehlers;
Heat #2: 1. Jesse Owen; 2. Jeff Struck Jr.; 3. Rob Nylin; 4. Dwayne Smith Jr.; 5. Justin Kay;
Heat #3: 1. John Oliver Jr.; 2. Rob Henry; 3. Anthony Franklin; 4. Eric Arneson; 5. Jake Lund;
Feature: 1. Jesse Owen; 2. Jeff Struck Jr.; 3. Rob Henry; 4. John Oliver Jr.; 5. Joe Bonney; 6. Joe Zrostlik; 7. Gene Ehlers; 8. Eric Arneson; 9. Justin Kay; 10. Rob Nylin; 11. Jeffrey Peterson; 12. Dwayne Smith Jr.; 13. Jeremy Marquette ; 14. Erick Turner; 15. Jake Lund; 16. Phillip Schneider; 17. Wayne Hora; 18. Walt King; 19. Anthony Franklin; 20. Nick Hixson; (3 DNS)
Sport Compacts
Heat #1: 1. Travis Hawkins; 2. Josh Starr; 3. Cyle Hawkins; 4. Jimmy Dutlinger; 5. Cristian Grady;
Heat #2: 1. Aaron Hitt; 2. Tim Sibley; 3. Nick Proehl; 4. Shawn McDermott; 5. Rob Harding Jr.;
Heat #3: 1. Mitch Belenberg; 2. William Michel; 3. Thomas Adams; 4. Ashton Blain; 5. Michael Lundeen;
Feature: 1. Josh Starr; 2. Cyle Hawkins; 3. Aaron Hitt; 4. Travis Hawkins; 5. Mitch Bielenberg; 6. Thomas Adams; 7. Tim Sibley; 8. Nick Proehl; 9. William Michel; 10. Jimmy Dutlinger; 11. Jay Crabill; 12. Cristian Grady; 13. Tommy Staggs; 14. Ashton Blain; 15. John Campbell; 16. Cody Brewster; 17. Rob Harding Jr.; 18. Kyle Taets; 19. Jason Rhoads; 20. Shawn McDermott; 21. Michael Lundeen; 22. Drew Wise; (4 DNS)
Hobby Stocks
Heat #1: 1. Kaden Reynolds; 2. Daniel Wauters; 3. Brandon White; 4. Jeff Schmidt; 5. Michale Putt;
Heat #2: 1. Randy LaMar; 2. Russ Olson; 3. Lukas Short; 4. Brian Wiseman; 5. Scott Wetter;
Feature: 1. Daniel Wauters; 2. Kaden Reynolds; 3. Russ Olson; 4. Randy LaMar; 5. Brandon White; 6. Jeff Schmidt; 7. Brian Wiseman; 8. Jared Miller; 9. Scott Wetter; 10. Michale Putt; 11. Lukas Short; 12. Steph Graham;
---
Article Credit: Mike McGuire
Submitted By: Derek Collum
Back to News