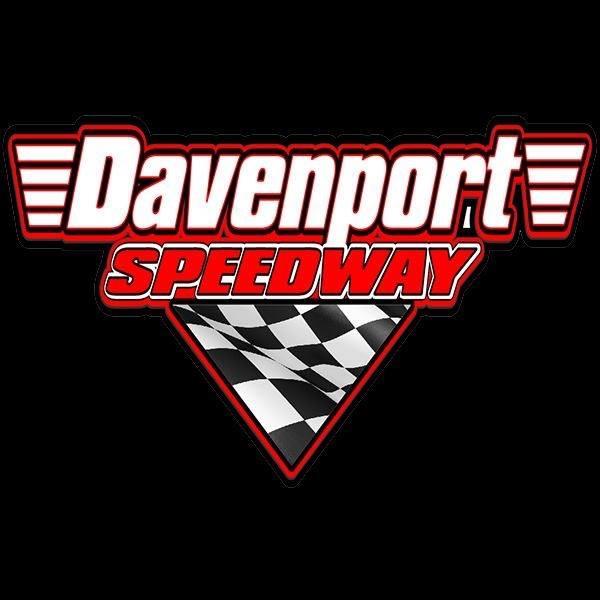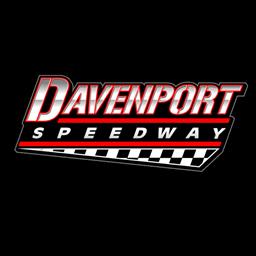 5/7/2021
Davenport Speedway
---
Kay takes Davenport late model cash
DAVENPORT, Ia. (May 7, 2021) – One hundred and seven cars were on hand Friday at the Davenport Speedway. The weekly racing program was highlighted by a $1,000-to-win late model program.
Fresh off his win Thursday at Marshalltown, Justin Kay took the checkers in the Petersen Plumbing & Heating IMCA Late Model feature. The victory was Justin's first points win of the year at Davenport.
Brian Harris jumped out to the early race lead from the pole position and held the top spot until lap twelve. Once in the lead, Kay quickly pulled away from the field in heavy lapped traffic. Matt Ryan gave chase to the leader, but finished a distant second. Andy Nezworski came from ninth starting position to finish third. Chuck Hanna started fifteenth and finished fourth, followed by Joe Zrostlik. Joel Callahan, Nezworski, and Ryan won the late model heats.
Terry Rentfro earned a long overdue victory in the Eriksen Chevrolet IMCA Modified class. Rentfro inherited the lead from Jason Pershy on lap fourteen and fended off Chris Zogg and Matt Werner to take the win. Zogg and Werner would finish second and third respectively. Arizona racer Tim Ward was involved in an early race caution but battled back to take fourth. Eric Barnes rounded out the top five.
Thirty-one IMCA SportMods were in the pit area Friday night, but only one could win. And that one was Jarrett Franzen. Doug Burkhead led the feature for the first six laps, but his race would end early. Ryan Walker held the lead briefly before Franzen made his way to the front. Jarrett led the remaining laps for the win. Tyler Soppe and Ben Chapman made it interesting down the stretch, but had to settle for second and third. Jeremy Gustaf finished fourth despite damage to the front end of his racecar. Walker held on for a fifth place finish.
Koehler Electric Street Stock action saw Jeff Struck Jr. capture his first points win of the season at Davenport. Nick Hixson led six laps but would take second. Third went to early race leader Donnie Louck, followed by Cary Brown and Tony VonDresky, in that order.
Dustin Forbes took the win in the QCjeeps.com Sport Compact main. Cyle Hawkins grabbed the early race lead, but bobbled on lap six and allowed Forbes to get the point. Forbes had to hold off Josh Starr to collect the win. Hawkins came back to finish third, followed by Jimmy Dutlinger and Todd Sibley.
The next event for K Promotions at Davenport Speedway will be Friday, May 21st. The program is highlighted by an appearance by the Badger Midget Racing Association. Weekly classes in action will be Modifieds, SportMods, Street Stocks, and Sport Compacts.
Results:
Davenport Speedway
May 7, 2021 –
IMCA Late Models
Heat #1: 1. Joel Callahan; 2. Don Pataska; 3. Joe Zroistlik; 4. Bryan Moreland; 5. Gary Webb
Heat #2: 1. Andy Nezworski; 2. Fred Remley; 3. Jacob Waterman; 4. Ryan Claeys; 5. Kelly Pestka;
Heat #3: 1. Matt Ryan; 2. Justin Kay; 3. Todd Van Tassel; 4. Brian Harris; 5. Chuck Hanna;
Feature: 1. Justin Kay; 2. Matt Ryan; 3. Andy Nezworski; 4. Chuck Hanna; 5. Joe Zrostlik; 6. Jacob Waterman; 7. Don Pataska; 8. Ryan Claeys; 9. Gary Webb; 10. Kelly Pestka; 11. Bobby Hansen; 12. Fred Remley; 13. Shawn Mulvany; 14. Joel Callahan; 15. Todd Van Tassel; 16. Colton Leal; 17. Tom Pestka; 18. Michael Leal; 19. Scott Olson; 20. Bryan Moreland; 21. Dave Stichter; 22. Bryan Harris; 23. Joe Ross; 24. LeRoy Brenner;
IMCA Modifieds
Heat #1: 1. Jason Pershy; 2. Mitch Morris; 3. Joe Beal; 4. Terry Rentfro; 5. Matt Werner;
Heat #2: 1. Tim Ward; 2. Bob Dominacki; 3. Steve Gustaf; 4. Austin Blume; 5. Charlie Mohr;
Heat #3: 1. Chris Zogg; 2. Dustin Smith; 3. Travis Denning; 4. Mike Goben; 5. Ryan Duhme;
Feature: 1. Terry Rentrfro; 2. Chris Zogg; 3. Matt Werner 4. Tim Ward; 5. Eric Barnes; 6. Mike Goben; 7. Travis Denning; 8. Austin Blume; 9. Charlie Mohr; 10. Joe Beal; 11. Craig Crawford; 12. Matt Stein; 13. Jake Whittington; 14. Josh Geigle; 15. Ryan Duhme; 16. Jon Coombs; 17. Dav Imming; 18. Jason Pershy; 19. Brandon Durbin; 20. Steve Gustaf; 21. Dustin Smith; 22. Rob Dominacki; 23. Mitch Morris; 24. Bob Dominacki; (1-DNS)
IMCA SportMod
Heat #1: 1. Doug Burkhead; 2. Logan Veloz; 3. Phil Anderson; 4. Paul Howard; 5. Anthony Franklin;
Heat #2: 1. Tyler Soppe; 2. Jeremy Gustaf; 3. Todd Dykema; 4. Rance Powell; 5. Kevin Goben;
Heat #3: 1. Ben Chapman; 2. Perry Gellerstedt; 3. Levi Heath; 4. Trey Grimm; 5. Cody Sherer;
Heat #4: 1. Jarrett Franzen; 2. Gage Neal; 3. Ryan Walker; 4. Randy Farrell; 5. Brad Salisberry;
Semi #1: 1. Anthony Franklin; 2. Kevin Goben; 3. Dakota Cole; 4. Steven Spiker; 5. Brad Salisberry;
Feature: 1. Jarrett Franzen; 2. Tyler Soppe; 3. Ben Chapman; 4. Jeremy Gustaf; 5. Ryan Walker; 6. Todd Dykema; 7. Steven Spiker; 8. Gage Neal; 9. Kevin Goben; 10. Randy Farrell; 11. Phil Anderson; 12. Brad Salisberry; 13. Perry Gellerstedt; 14. Dakota Cole; 15. Levi Heath; 16. Anthony Franklin; 17. Ron Schwartzkopf; 18. Andrew Francis; 19. Doug Burkhead; 20. Trey Grimm; 21. Logan Veloz; 22. Paul Howard; 23. Rance Powell; 24. James Vierig;
Street Stocks
Heat #1: 1. Tony VonDresky; 2. Donnie Louck; 3. Jesse Owen; 4. Cary Brown; 5. Frank Waters;
Heat #2: 1. Nick Hixson; 2. Jeff Struck Jr.; 3. Justin Kay; 4. Shawn McDermott; 5. Rick Schriner;
Feature: 1. Jeff Struck Jr.; 2. Nick Hixson; 3. Donnie Louck; 4. Cary Brown; 5. Tony VonDresky; 6. Frank Waters; 7. Justin Kay; 8. Jake Lund; 9. Rick Schriner; 10. Tom Riggs; 11. Jesse Owen; 12. Shawn McDermott; 13. Erick Turner; (1-DNS)
Sport Compacts
Heat #1: 1. Josh Starr; 2. Dustin Forbes; 3. Todd Sibley; 4. Jimmy Dutlinger; 5. Brandon Schneider;
Heat #2: 1. Cyle Hawkins; 2. Tim Siblegy; 3. Tommy Skaggs; 4. Austin Nelan; 5. William McPherson;
Feature: 1. Dustin Forbes; 2. Josh Starr; 3. Cyle Hawkins; 4. Jimmy Dutlinger; 5. Todd Sibley; 6. Brandon Schneider; 7. Austin Nelan; 8. Cody Brewster; 9. Cody Montgomery; 10. Tim Sibley; 11. Codie Proehl; 12. Tommy Skaggs; 13. William McPherson;
---
Article Credit: Mike McGuire
Submitted By: Derek Collum
Back to News