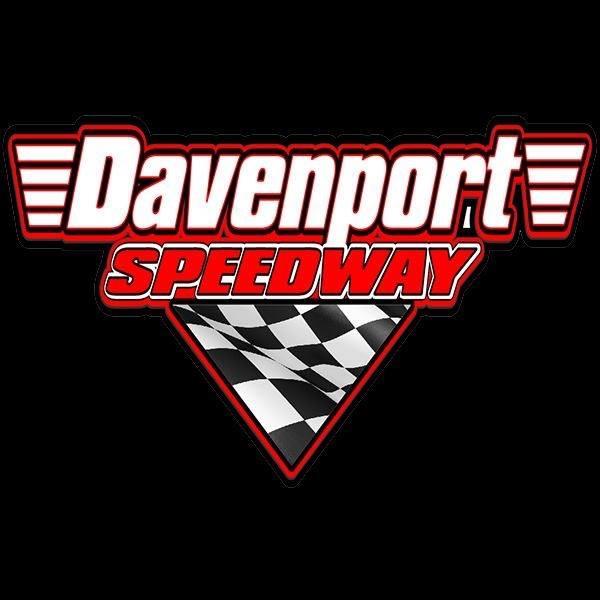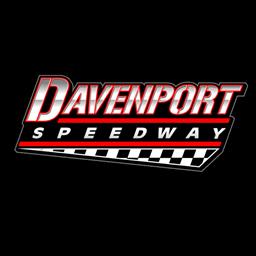 6/4/2021
Davenport Speedway
---
Andy Eckrich does it again at Davenport
DAVENPORT, Ia. (June 4, 2021) – Andy Eckrich scored his second 'Haulin with Hoker' Super Late Model Racing East Series at Davenport Speedway, in as many years. Eckrich pulled away from Todd Cooney in the final laps to take the win and the $3,000 top prize.
Eckrich and Cooney started the 35-lap main, side by side in the front row. In a classic high groove / low groove battle, Eckrich was hugging the bottom, while Cooney was rim-riding the high side. The duo swapped the lead at least eight times until Eckrich took the lead for good.
Cooney finished a close second, with a charging Darin Duffy taking third. Local favorites Justin Kay and Matt Ryan rounded out the top five.
Matt Ryan set the pace in qualifying, with a lap of 14.858 seconds. Darin Duffy, Luke Goedert, and Kay won the late model heat races. Gary Webb won the B-Main.
Ryan Duhme paid a visit to victory lane in the Eriksen Chevrolet IMCA Modified feature. Duhme started eighth and took the lead by the end of lap two. The top three finishers Duhme, second place Travis Denning, and Chris Zogg in third were all using the bottom of the racetrack. Mike Goben and Eric Barnes finished fourth and fifth respectively.
With thirty-seven IMCA SportMods in the pits, everyone knew you would have to battle to get in the winner's circle. Doug Burkhead used his pole position starting spot to grab the lead for the first nine laps. Brandon Jewell raced the high side to take the lead, but a restart with two laps to go allowed Ben Chapman to pass for the lead. Chapman led the last two laps for the win. Jewell would finish second. Kevin Goben had a strong run to take third. Perry Gellerstedt ran top five all race long, before finishing fourth. Logan Veloz was fifth.
Tony VonDresky put a hurtin' on field of Koehler Electric Street Stocks. After Rick Schriner and Jesse Owen each had a shot at the lead, VonDresky put his car out in front. Tony would lead the rest of the way to the checkers, with Owen and Nick Hixson close behind. Jake Lund was fourth, followed by Jeff Struck Jr.
The QCjeeps.com Sport Compact feature saw a spirited battle for the win between Cyle Hawkins and Josh Starr. Once Hawkins got some separation, he slowly started to pull away for the victory. Starr would finish second, followed by Tim Sibley, Todd Sibley, and Brad McDermott, in that order.
Next Friday, June 11th, the racing action continues at Davenport Speedway. All five weekly classes will be racing. In two weeks (June 18th), the 'Haulin with Hoker' Super Late Model Racing East Series returns to Davenport Speedway for an encore performance.
Results:
Davenport Speedway
June 4, 2021 –
'Haulin with Hoker' Super Late Models
Heat #1: 1. Darin Duffy; 2. Jeff Tharp; 3. Matt Ryan; 4. Jay Johnson; 5. Charlie McKenna;
Heat #2: 1. Luke Goedert; 2. Jonathan Brauns; 3. Chad Holladay; 4. Fred Remley; 5. Richie Gustin;
Heat #3: 1. Justin Kay; 2. Jeff Aikey; 3. Joel Callahan; 4. Gary Webb; 5. Bryan Moreland;
Semi: 1. Gary Webb; 2. Fred Remley; 3. Luke Pestka; 4. Jay Johnson; 5. Mark Burgtorf;
Feature: 1. Andy Eckrich; 2. Todd Cooney; 3. Darin Duffy; 4. Justin Kay; 5. Matt Ryan; 6. Jeff Aikey; 7. Richie Gustin; 8. Luke Goedert; 9. Chad Holladay; 10. Dave Eckrich; 11. Jeff Tharp; 12. Jonathan Brauns; 13. Jason Hahne; 14. Joel Callahan; 15. Brian Harris; 16. Gary Webb; 17. Charlie McKenna; 18. Darrell DeFrance; 19. Luke Pestka; 20. Curt Schroeder; 21. Bryan Moreland; 22. Jay Johnson; 23. Fred Remley; 24. Mark Burgtorf;
IMCA Modifieds
Heat #1: 1. Jason Pershy; 2. Brandon Durbin; 3. Joe Beal; 4. Chris Zogg; 5. Terry Rentfro;
Heat #2: 1. Mitch Morris; 2. Matt Werner; 3. Travis Denning; 4. Bob Dominacki; 5. Steve Gustaf;
Heat #3: 1. Chris Lawrence; 2. Eric Barnes; 3. Ryan Duhme; 4. Craig Crawford; 5. Mike Goben;
Feature: 1. Ryan Duhme; 2. Travis Denning; 3. Chris Zogg; 4. Mike Goben; 5. Eric Barnes; 6. Craig Crawford; 7. Brandon Durbin; 8. Terry Rentfro; 9. Matt Werner; 10. Austin Blume; 11. Dustin Smith; 12. Charlie Mohr; 13. Chris Lawrence; 14. Matt Stein; 15. Jason Pershy; 16. TJ Patz; 17. Jake Whittington; 18. Jesse Owen; 19. Dave Imming; 20. Joe Beal; 21. Rob Dominacki; 22. Steve Gustaf; 23. Josh Geigle; 24. Mitch Morris; 25. Bob Dominacki;
IMCA SportMod
Heat #1: 1. Jarrett Franzen; 2. Branson Jewell; 3. Kevin Goben; 4. Steven Spiker; 5. Trey Grrimm;
Heat #2: 1. Logan Veloz; 2. Todd Dykema; 3. Tyler Soppe; 4. Anthony Franklin; 5. Cam Reimers;
Heat #3: 1. Doug Burkhead; 2. Ben Chapman; 3. Ryan Reed; 4. Brad Salisberry; 5. TJ Fortmann;
Heat #4: 1. Perry Gellerstedt; 2. Jacob Arp; 3. Dakota Cole; 4. Phil Anderson; 5. Chris Dunn;
Semi #1: 1. Aaron Hitt; 2. TJ Fortmann; 3. Trey Grimm; 4. Rance Powell; 5. Chris Burke;
Semi #2: 1. Cam Reimers; 2. Ryan Walker; 3. Nick Groth; 4. Chris Dunn; 5. Chuck Fox;
Feature: 1. Ben Chapman; 2. Brandon Jewell; 3. Kevin Goben; 4. Perry Gellerstedt; 5. Logan Veloz; 6. Phil Anderson; 7. Ryan Reed; 8. Todd Dykema; 9. Tyler Soppe; 10. TJ Fortmann; 11. Aaron Hitt; 12. Steven Spiker; 13. Ryan Walker; 14. Jacob Arp; 15. Cam Reimers; 16. Brad Salisberry; 17. Dakota Cole; 18. Rance Powell; 19. Nick Groth; 20. Chris Dunn; 21. Doug Burkhead; 22. Jarrett Franzen; 23. Anthony Franklin; 24. Trey Grimm;
Street Stocks
Heat #1: 1. Jeff Struck Jr.; 2. Cary Brown; 3. Joe Bonney; 4. Shawn McDermott; 5. Nick Claussen;
Heat #2: 1. Nick Hixson; 2. Jesse Owen; 3. Tony VonDresky; 4. Tom Riggs; 5. Rick Schriner;
Feature: 1. Tony VonDresky; 2. Jesse Owen; 3. Nick Hixson; 4. Jake Lund; 5. Jeff Struck Jr.; 6. Nick Claussen; 7. Cary Brown; 8. Kori Murphy; 9. Tom Riggs; 10. Rick Schriner; 11. Shawn McDermott; 12. Donnie Louck; 13. Joe Bonney; 14. Austin Riggs; (1-DNS)
Sport Compacts
Heat #1: 1. Josh Starr; 2. Jack Fitzgibbon; 3. Cyle Hawkins; 4. Todd Sibley; 5. Brad McDermott;
Feature: 1. Cyle Hawkins; 2. Josh Starr; 3. Todd Sibley; 4. Tim Sibley; 5. Brad McDermott; 6. Codie Proehl; 7. Jason Rhoads; 8. Andrew Bolio; 9. Chris Courson; 10. Nick Proehl; (1-DNS)
---
Article Credit: Mike McGuire
Submitted By: Derek Collum
Back to News