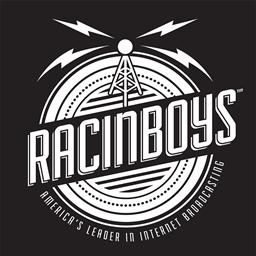 ---
Eckrich Outduels Cooney in Caution-Free Hoker Late Model Thriller at Davenport
By Anthony Ainslie (Davenport, IA) -- After an impromptu extended break, the Haulin' with Hoker Trucking Super Late Models East Series returned to action Friday night and ended with a spectacular finish.
Friday's first of three shows at the Davenport Speedway marked round two of the 2021 season for the East Series. A field of 28 cars made the trip out to the Mississippi Valley Fairgrounds after the tour's Memorial Day weekend tripleheader was rained out.
PHOTO CREDIT: Mike Ruefer
Andy Eckrich was on the pole for the 35-lap main event. The Oxford, Iowa driver led early but had a slim lead over second place Todd Cooney. Eckrich led the first ten laps before Cooney took his first turn in command of the lead.
The duo traded the lead back and forth. While that went on, Darin Duffy, Matt Ryan, and Justin Kay went at it for the third spot. Later on in the race, point leader Jeff Aikey jumped into the battle.
Before long, the battle for the lead between Eckrich and Cooney entered lapped traffic. Both drivers had kept their race neck and neck even through the back markers.
The race went the whole distance without a caution, and at the line, Eckrich held on to win over Cooney by .365 seconds. The win marked Eckrich's second career East Series win, both of them coming at Davenport Speedway. The race was also the third consecutive caution-free feature in four races.
Cooney would have to settle for second, and Darin Duffy recorded his career best finish with the series with his third-place finish. Defending track champion Justin Kay finished fourth, and Matt Ryan rounded out the top five.
The Haulin' with Hoker Trucking East Series will finish out its weekend on Saturday with the tour's debut at the 34 Raceway in Burlington, Iowa. Then the Malvern Bank West Series gets back to business at the Shelby County Speedway in Harlan, Iowa on June 12th.
A Feature 1
Pos Start Driver Hometown Car
1 1 Andy Eckrich Oxford, IA #56
2 2 Todd Cooney Des Moines, IA #30
3 6 Darin Duffy Urbana, IA #35
4 7 Justin Kay Wheatland, IA #15K
5 3 Matt Ryan Davenport, IA #07
6 5 Jeff Aikey Cedar Falls, IA #77
7 10 Richie Gustin Gilman, IA #19G
8 4 Luke Goedert Guttenburg, IA #44
9 11 Chad Holladay Muscatine, IA #32C
10 9 Dave Eckrich Oxford, IA #58
11 12 Jeff Tharp Sherrill, IA #10T
12 13 Jonathan Brauns Muscatine, IA #22B
13 8 Jason Hahne Webster City, IA #76H
14 14 Joel Callahan Dubuque, IA #40
15 15 Brian Harris Davenport, IA #99H
16 17 Gary Webb Blue Grass, IA #56W
17 16 Charlie McKenna Ames, IA #22C
18 23 Darrel DeFrance Marshalltown, IA #99D
19 19 Luke Pestka Robins, IA #99
20 24 Curt Schroeder Newton, IA #15C
21 22 Bryan Moreland Durango, IA #16
22 20 Jay Johnson West Burlington, IA #93
23 18 Fred Remley Stockton, IA #42
24 21 Mark Burgtorf Quincy, IL #15R
B Feature 1
Pos Start Driver Hometown Car
1 5 Gary Webb Blue Grass, IA #56W
2 3 Fred Remley Stockton, IA #42
3 1 Luke Pestka Robins, IA #99
4 2 Jay Johnson West Burlington, IA #93
5 7 Mark Burgtorf Quincy, IL #15R
6 4 Bryan Moreland Durango, IA #16
7 11 Darrel DeFrance Marshalltown, IA #99D
8 6 Curt Schroeder Newton, IA #15C
9 10 Kyle Krampe Baxter, IA #K1
10 9 Jill George Cedar Falls, IA #22
11 8 Shawn Mulvany Moline, IL #70
12 12 Nick Marolf Moscow, IA #33
Heat 1
Pos Start Driver Hometown Car
1 4 Darin Duffy Urbana, IA #35
2 2 Jeff Tharp Sherrill, IA #10T
3 6 Matt Ryan Davenport, IA #07
4 1 Jay Johnson West Burlington, IA #93
5 3 Charlie McKenna Ames, IA #22C
6 5 Brian Harris Davenport, IA #99H
7 7 Shawn Mulvany Moline, IL #70
Heat 2
Pos Start Driver Hometown Car
1 6 Luke Goedert Guttenburg, IA #44
2 2 Jonathan Brauns Muscatine, IA #22B
3 3 Chad Holladay Muscatine, IA #32C
4 1 Fred Remley Stockton, IA #42
5 5 Richie Gustin Gilman, IA #19G
6 7 Darrel DeFrance Marshalltown, IA #99D
7 4 Nick Marolf Moscow, IA #33
Heat 3
Pos Start Driver Hometown Car
1 4 Justin Kay Wheatland, IA #15K
2 5 Jeff Aikey Cedar Falls, IA #77
3 3 Joel Callahan Dubuque, IA #40
4 1 Gary Webb Blue Grass, IA #56W
5 2 Bryan Moreland Durango, IA #16
6 6 Dave Eckrich Oxford, IA #58
7 7 Jill George Cedar Falls, IA #22
Heat 4
Pos Start Driver Hometown Car
1 5 Todd Cooney Des Moines, IA #30
2 4 Jason Hahne Webster City, IA #76H
3 6 Andy Eckrich Oxford, IA #56
4 1 Curt Schroeder Newton, IA #15C
5 3 Luke Pestka Robins, IA #99
6 2 Mark Burgtorf Quincy, IL #15R
7 7 Kyle Krampe Baxter, IA #K1
Qualifying A
Pos Start Driver Hometown Car
1 11 Matt Ryan Davenport, IA #07
2 1 Luke Goedert Guttenburg, IA #44
3 14 Brian Harris Davenport, IA #99H
4 12 Richie Gustin Gilman, IA #19G
5 8 Darin Duffy Urbana, IA #35
6 13 Nick Marolf Moscow, IA #33
7 9 Charlie McKenna Ames, IA #22C
8 10 Chad Holladay Muscatine, IA #32C
9 3 Jeff Tharp Sherrill, IA #10T
10 2 Jonathan Brauns Muscatine, IA #22B
11 4 Jay Johnson West Burlington, IA #93
12 5 Fred Remley Stockton, IA #42
13 7 Shawn Mulvany Moline, IL #70
Qualifying B
Pos Start Driver Hometown Car
1 14 Dave Eckrich Oxford, IA #58
2 12 Andy Eckrich Oxford, IA #56
3 6 Jeff Aikey Cedar Falls, IA #77
4 2 Todd Cooney Des Moines, IA #30
5 8 Justin Kay Wheatland, IA #15K
6 5 Jason Hahne Webster City, IA #76H
7 13 Joel Callahan Dubuque, IA #40
8 4 Luke Pestka Robins, IA #99
9 1 Bryan Moreland Durango, IA #16
10 9 Mark Burgtorf Quincy, IL #15R
11 7 Gary Webb Blue Grass, IA #56W
12 3 Curt Schroeder Newton, IA #15C
13 10 Jill George Cedar Falls, IA #22
14 11 Kyle Krampe Baxter, IA #K1
---
Submitted By: Kirk Elliott
Back to News