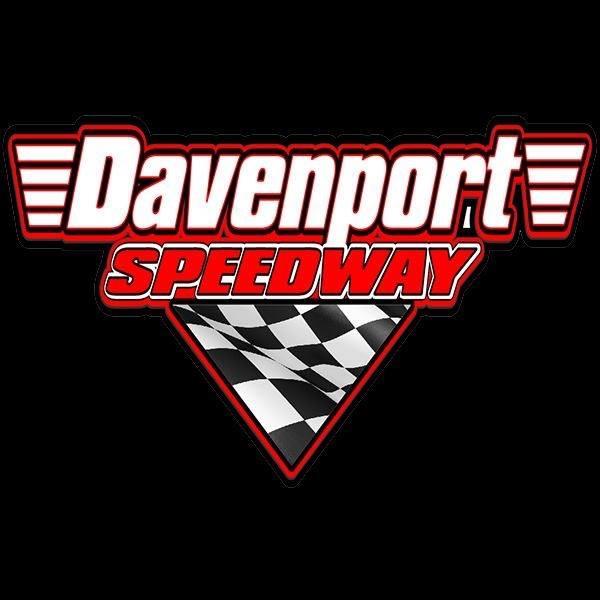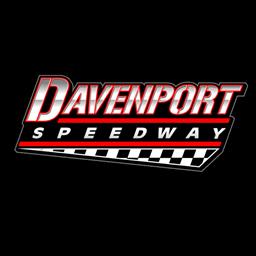 6/11/2021
Davenport Speedway
---
Five repeat winners at Davenport
DAVENPORT, Ia. (June 11, 2021) – Hot temperatures and hot tempers made for an exciting night of racing action at Davenport Speedway Friday. All five weekly classes saw repeat winners for the first time this season.
Justin Kay returned to the Hoker Trucking Victory Lane in the Petersen Plumbing & Heating IMCA Late Model feature. The first seven laps were a scramble as Bryan Moreland and Jacob Waterman battled for the lead. Kay started ninth and first took the lead on lap eight.
Following a couple of lap thirteen restarts, Andy Nezworski used the low groove to move into first place. Lap seventeen saw Kay retake the lead and hold on for the win. Nezworski finished second with Matt Ryan third. Jacob Waterman was fourth, just ahead of Chuck Hanna.
Kay and Nezworski both won late model heats.
Spencer Diercks recorded his second Eriksen Chevrolet IMCA Modified feature of the season, but had to put in some work to do so. Diercks started eleventh and would not see the lead, until lap seventeen, of the twenty-lap main. Diercks may his way around Mitch Morris for the lead and fend off Travis Denning to collect the "W'. Denning and Morris were followed to the checkers by Matt Werner and Joe Beal, in that order.
The IMCA SportMod main was a wild race that saw five cautions in the first six laps. Once things settled down, it was time for Jarrett Franzen to take the lead. Franzen held off Logan Veloz and Ben Chapman down the stretch, to secure his second feature win at Davenport In 2021. Veloz and Chapman finished second and third. Ryan Walker and Tyler Soppe were fourth and fifth respectively.
Nick Hixson led only two laps of the Koehler Electric Street Stock feature. The white flag lap and the checkered flag lap. Hixson used the high side to chase down Tony VonDresky and make the pass for the lead and the win. VonDresky finished second, ahead of Jeff Struck Jr. Nick Claussen and early race leader Tom Riggs rounded out the top five.
The QCjeeps.com Sport Compact class may have been short on cars, but there was no shortage of action. After a first lap crash involved half the field, Tim Sibley grabbed the early lead. A handful of racers tried to take the lead but Sibley held firm until the midway point of the race. That is when Cyle Hawkins took the lead on the outside. Hawkins would lead the remaining laps for his fourth point win of the season. Sibley held on to finish second, followed by Josh Riley, Dustin Begyn, and Codie Proehl.
The guest class for the evening was the Nostalgic Stock Car Racing Club vintage late models. Terry Mattly won the feature over Duke Fulton, Terry Hirst, and Brian Birkhofer.
Next Friday, June 18th, the 'Haulin with Hoker' SLMR East Series returns to Davenport Speedway. Weekly racing classes will also be in action, but no IMCA Late Models.
Results:
Davenport Speedway
June 11, 2021 –
IMCA Late Models
Heat #1: 1. Justin Kay; 2. Jacob Waterman; 3. Chuck Hanna; 4. Ryan Claeys; 5. Todd Van Tassel;
Heat #2: 1. Andy Nezworski; 2. Matt Ryan; 3. Bryan Moreland; 4. Fred Remley; 5. Joe Ross;
Feature: 1. Justin Kay; 2. Andy Nezworski; 3. Matt Ryan; 4. Jacob Waterman; 5. Chuck Hanna; 6. Joe Ross; 7. Fred Remley; 8. Todd VanTassel; 9. Bryan Moreland; 10. Brian Webb; 11. Colton Leal; 12. Michael Leal; 13. Anthony Haines; 14. Don Pataska; 15. Ryan Claeys;
IMCA Modifieds
Heat #1: 1. Mitch Morris; 2. Bob Dominacki; 3. Joe Beal; 4. Ryan Duhme; 5. Charlie Mohr;
Heat #2: 1. Jason Pershy; 2. Spencer Diercks; 3. Chris Lawrence; 4. Steve Gustaf; 5. Austin Blume;
Heat #3: 1. Dustin Smith; 2. Terry Rentfro; 3. Matt Werner; 4. Travis Denning; 5. Rob Dominacki;
Feature: 1. Spencer Diercks; 2. Travis Denning; 3. Mitch Morris; 4. Matt Werner; 5. Joe Beal; 6. Eric Barnes; 7. Dustin Kroening; 8. Craig Crawford; 9. Jason Pershy; 10. Dustin Smith; 11. Mike Goben; 12. Austin Blume; 13. Terry Rentfro; 14. Charlie Mohr; 15. Matt Stein; 16. Brandon Hamburg; 17. Jake Whittington; 18. TJ Patz; 19. Richard Vela; 20. Nick Hillyer; 21. Steve Gustaf; 22. Rob Dominacki; 23. Ryan Duhme; 24. Chris Lawrence; 25. Bob Dominacki; (1-DNS)
IMCA SportMod
Heat #1: 1. Ben Chapman; 2. Jarett Franzen; 3. Paul Howard; 4. Todd Dykema; 5. Chris Hesseling;
Heat #2: 1. Anthony Franklin; 2. Justin Becker; 3. Brad Salisberry; 4. Perry Gellerstedt; 5. Jacob Lenth;
Heat #3: 1. Rance Powell; 2. Aaron Hitt; 3. Logan Veloz; 4. Tyler Soppe; 5. Ryan Walker;
Feature: 1. Jarrett Franzen; 2. Logan Veloz; 3. Ben Chapman; 4. Ryan Walker; 5. Tyler Soppe; 6. Todd Dykema; 7. Dakota Cole; 8. Perry Gellerstedt; 9. Brad Salisberry; 10. Ryan Reed; 11. Levi Heath; 12. Chris Hesseling; 13. Andrew Francis; 14. Brandon Jewell; 15. Jacob Lenth; 16. Trey Grimm; 17. Anthony Franklin; 18. Aaron Hitt; 19. Justin Becker; 20. Kevin Rasdon; 21. Rance Powell; 22. Josh Whittington; 23. Barry Bates; 24. Michael Heister; 25. Kevin Goben; 26. Paul Howard; 27. Phil Anderson; (1-DNS)
Street Stocks
Heat #1: 1. Jeff Struck Jr.; 2. Jesse Owen; 3. Jake Lund; 4. Austin Riggs; 5. Donnie Louck;
Heat #2: 1. Nick Hixson; 2. Tony VonDresky; 3. Rick Schriner; 4. Tom Riggs; 5. Nick Claussen;
Feature: 1. Nick Hixson; 2. Tony VonDresky; 3. Jeff Struck Jr.; 4. Nick Claussen; 5. Tom Riggs; 6. Jake Lund; 7. Rick Schriner; 8. Austin Riggs; 9. Jesse Owen; (1-DNS)
Sport Compacts
Heat #1: 1. Josh Starr; 2. Cyle Hawkins; 3. Dustin Begyn; 4. Josh Riley; 5. Tim Sibley;
Feature: 1. Cyle Hawkins; 2. Tim Sibley; 3. Josh Riley; 4. Dustin Begyn; 5. Codie Proehl; 6. Jason Rhoads; 7. Scott Delles; 8. Todd Sibley; (1-DQ)
N.S.C.R.C.
Heat #1: 1. Brian Birkhofer; 2. Duke Fulton; 3. Nick Proehl; 4. Jarrett Claeys; 5. Pat Tuttle;
Heat #2: 1. Mark Claeys; 2. Terry Hirst; 3. Terry Mattly; 4. Brian Ashmore; 5. Stephan Tanner;
Feature: 1. Terry Mattly; 2. Duke Fulton; 3. Terry Hirst; 4. Brian Birkhofer; 5. Brian Ashmore; 6. Mark Claeys; 7. Jarrett Claeys; 8. Stephan Tanner; 9. Nick Proehl; (2-DNS)
---
Article Credit: Mike McGuire
Submitted By: Derek Collum
Back to News