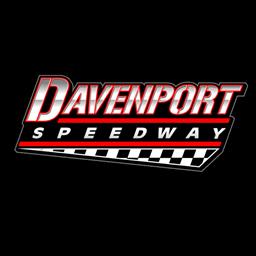 4/30/2022
Davenport Speedway
---
Bielenberg beats Hawkins and rain for Davenport win
DAVENPORT, Ia. (April 29, 2022) – Mother Nature cooperated with Davenport Speedway just enough to get in the Koehler Electric Season Opener. Rain came for the second time around about nine o'clock washing out the last four features of the evening. Those races will be made up at a later date.
In the one feature judged complete, the QCjeeps.com Sport Compact main was won by Mitch Bielenberg of Charlotte, Iowa. Travis Hawkins jumped out the early race lead from his front row starting spot. Bielenberg started sixth, but vaulted into second on the first lap. Mitch made his move for the lead on lap five and held the top spot until the race was halted.
Travis Hawkins held on to second with Cyle Hawkins third. Cristian Grady and Michael Lundeen rounded out the top five.
One hundred and thirteen entries were in the pit area for the opener
Weather permitting, the racing action at Davenport Speedway continues next Friday, May 6th.
Results:
Davenport Speedway
April 29, 2022 –
IMCA Late Models
Heat #1: 1. Nick Marolf; 2. Chuck Hanna; 3. Justin Kay; 4. Jake Waterman; 5. Derrick Stewart;
Heat #2: 1. Fred Remley; 2. Don Pataska; 3. Tim Mardsen; 4. Chris Ryan; 5. Mack Mulvany;
Heat #3: 1. Andy Nezworski; 2. Matt Ryan; 3. Bryan Moreland; 4. Todd Van Tassel; 5. Jerod Ballhagen;
Feature: To be made-up at a later date
IMCA Modifieds
Heat #1: 1. Kurt Kile; 2. Derek Thompson; 3. Jaden Fryer; 4. Mitch Morris; 5. Joe Beal;
Heat #2: 1. Spencer Diercks; 2. Brunson Behning; 3. Chris Zogg; 4. Drew Janssen; 5. Kyle Montgomery;
Heat #3: 1. Matt Werner; 2. Brad Dierks; 3. Jeff Larson; 4. Jeremy Gustaf; 5. Ryan Duhme;
Feature: To be made-up at a later date
IMCA SportMod
Heat #1: 1. Shane Paris; 2. Trey Grimm; 3. Erick Turner; 4. TJ Patz; 5. Jarrett Franzen;
Heat #2: 1. Ben Chapman; 2. Jake Morris; 3. Mitch Strayer; 4. Kyle Olson; 5. Cody Clausen;
Heat #3: 1. Kevin Goben; 2. Logan Anderson; 3. Doug Burkhead; 4. Tony Olson; 5. Tyler Soppe;
Heat #4: 1. Aaron Hitt; 2. Brett Thomas; 3. Brandon Jewell; 4. Cole Stichter; 5. Justin Schroeder;
Semi #1: 1. Jarrett Franzen; 2. Todd Dykema; 3. Levi Laymon; 4. Kole Quam; 5. Kasey Williams;
Semi #2: 1. Cody Claussen; 2. Rayce Mullen; 3. Jacob Arp; 4. Joel Payne; 5. Dakota Cole;
Feature: To be made-up at a later date
Street Stocks
Heat #1: 1. Jeff Struck Jr.; 2. Jesse Owen; 3. Dustin Vis; 4. Jake Lund; 5. Shad Murphy;
Heat #2: 1. Kaden Reynolds; 2. Austin Riggs; 3. Frank Waters; 4. Daron Oberbroeckling; 5. Trevor Tucker;
Feature: To be made-up at a later date
Sport Compacts
Heat #1: 1. Cyle Hawkins; 2. Mitch Bielenberg; 3. Jimmy Dutlinger; 4. Trent Lebarge; 5. Michael Lundeen;
Heat #2: 1. Travis Hawkins; 2. Codie Proehl; 3. Jay Crabill; 4. Jack Fitzgibbon; 5. Cristian Grady;
Feature: 1. Mitch Bielenberg; 2. Travis Hawkins; 3. Cyle Hawkins; 4. Cristian Grady; 5. Michael Lundeen; 6. Shawn McDermott; 7. Jack Fitzgibbon; 8. Jimmy Dutlinger; 9. Codie Proehl; 10. Jay Crabill; 11. Rob Harding Jr.; 12. Trent Lebarge; 13. Jason Rhoads; 14. Norm Marcov; 15. Shawn Rands; 16. Drew Wise; 17. Dustin Munn;
---
Article Credit: Mike McGuire
Back to News