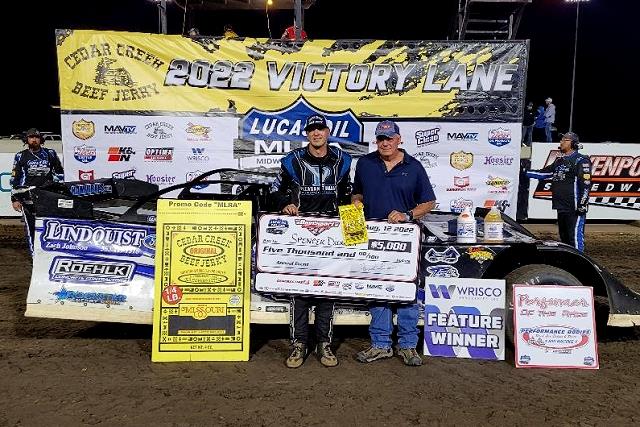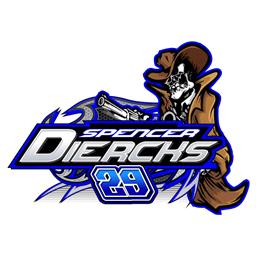 ---
Spencer Diercks grabs first Lucas Oil MLRA victory at Davenport
Spencer Diercks returned to the driver's seat of his Mohr Enterprises No. 29 Late Model on Thursday afternoon to compete with the Lucas Oil Midwest LateModel Racing Association (MLRA) at C.J. Speedway (Columbus Junction, Iowa). (Lloyd Collins photo)
After claiming the fast time honors in time trials with a 17.543-second lap, Diercks outran Chris Simpson in his heat to pick up the win. Unable to hold off a charging Tony Jackson Jr. late in the feature, Spencer raced to a second-place finish in the 30-lapper with Chris Simpson coming in third.
For the second round of the tripleheader weekend, Diercks made the short trip to Davenport Speedway (Davenport, Iowa) on Friday evening. With 19 cars entered, Spencer laid down the fastest time overall before placing first in his heat. Holding off Chris and Chad Simpson in the 30-lap feature, Diercks charged to his first career Lucas Oil MLRA triumph ahead of the Simpson brothers, Justin Kay, and Frank Heckenast Jr. He earned $5,000 for his first win of the 2022 campaign.
On Saturday afternoon at Maquoketa Speedway (Maquoketa, Iowa), Spencer followed up a heat victory with a fourth-place performance in the feature. He trailed Tony Jackson Jr., Chris Simpson, and Frank Heckenast Jr. across the line with Chad Simpson coming in fifth.
Back to News