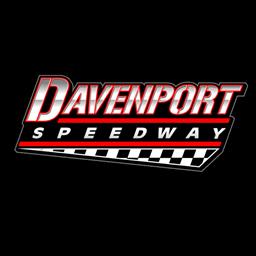 8/20/2022
Davenport Speedway
---
Xtreme Outlaw Midgets coming to Davenport Speedway
(DAVENPORT, Iowa)- Two young women could be leading the pack when the Xtreme Outlaw Midget Series comes to Davenport. Literally, they could be leading the pack!
The Xtreme Outlaw Midget Series will continue its inaugural season at the Quad Cities 150. The event will take place at the Davenport Speedway. The midget races on August 26th & 27th will mark their first competition at the track since 2006.
Jade Avedisian of California, and Taylor Reimer of Oklahoma, both have a victory in those five races. Both racers compete for quality race teams and are highly entrenched in the Xtreme point standings. Taylor is currently fifth in points and Jade is eighth.
Jade Avedisian is a fifteen year-old phenom that started racing when she was six. She is a part of the Toyota driver development program with an eye on making it to NASCAR. Jade won the Xtreme Outlaw Midget Series race at Jacksonville, Illinois in June.
Taylor Reimer has taken a different path to the top of the midget racing world. Taylor also started racing at the age of six. But as a teenager, she put her racing career on hold to concentrate on school. Taylor graduated from Oklahoma University, where she was also a cheerleader. Now twenty-two, she is back behind the wheel. Taylor's victory came at Millbridge Speedway in May.
Both drivers are expected to be on hand when the Quad Cities 150 is held at the Davenport Speedway, August 25-27. This event features the CASE World of Outlaws Late Models racing all three nights. The Xtreme Outlaw Midget Series will be highlighted on Friday, August 26th, and Saturday, August 27th.
The Quad Cities 150, presented by Hoker Trucking LLC, is more than just racing. A car show, truck show, bags tourney, Toys for Tots charity drive, and many more activities are planned for the event. The Davenport Speedway is located at the Mississippi Valley Fairgrounds in Davenport.
More information can be found at the K Promotions – Davenport Speedway facebook page or at davenportiaspeedway.com.
---
Article Credit: Mike McGuire
Back to News