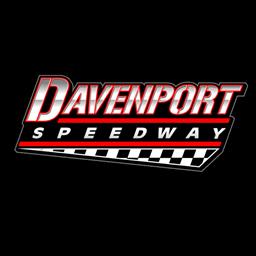 8/22/2022
Davenport Speedway
---
History of the World of Outlaws Late Models continues to grow at Davenport Speedway
(DAVENPORT, Iowa)- When the World of Outlaws CASE Construction Equipment Late Models come to Davenport for the Quad Cities 150, it will mark their eighth trip to the Davenport speedplant. In the seven previous trips, there have been ten nights of racing action. The first three races were single night events, won by drivers from the 'Hawkeye State'. Since then, all the victories have gone to out-of-towners.
The first race was in 2004, when Brian Birkhofer of Muscatine took the checkers. That event was on Davenport's half-mile track. The quarter-mile oval hosted the series in 2007, with Davenport's Brian Harris taking the win. Chad Simpson of Mt. Vernon, completed the trio of Iowa wins on the half-mile in 2018.
The "Newport Nightmare" Jimmy Owens led the parade around the half-mile in 2019. The pandemic year of 2020, saw three races at the track. The Inside-Out event in May saw Brandon Sheppard sweep both the quarter and half-mile races. "B-Shepp" came back in July to win another feature on the quarter-mile.
The first running of the Quad Cities 150 in 2021 saw three straight nights of racing for the WOOLMS series. All races were on the quarter-mile track.
"The Mail Man" Devin Moran was the victor on night one. Brandon Sheppard was the winner on night two. In the finale, it was the "Mail Man" delivering once again and taking home a check for $30,000. It was the highest single night payout in the history of the Davenport Speedway.
The 2022 format of the Quad Cities 150 (August 25-27), will be much the same as last year. The most significant change will be in the support classes. On Thursday August 25th, IMCA Modifieds are racing in addition to the late models. For the first time ever, the Xtreme Outlaw Midget Series will appear on Friday and Saturday.
More information can be found at the K Promotions - Davenport Speedway facebook page or at davenportiaspeedway.com.
---
Article Credit: Mike McGuire
Back to News