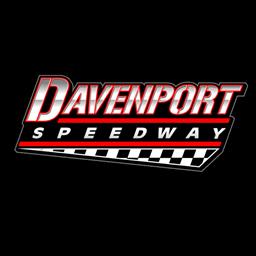 4/28/2023
Davenport Speedway
---
Kay makes it two in a row at Davenport
DAVENPORT, Ia. (April 28, 2023) – Justin Kay of Wheatland, Iowa captured his second straight
Petersen Plumbing & Heating IMCA Late Model feature win, Friday at Davenport Speedway. Kay was able to pass early race leader Chuck Hanna on lap four and never looked back.
Caution flags slowed the race pace several times. But on each restart, Justin was able to pull away from the pack. He held a 1.8 second advantage over second place Andy Nezworski at the checkers. Hanna took third, followed by Bryan Klein and Fred Remley.
Kay and Matt Ryan won the late model heats.
Chris Zogg led all twenty laps en route to victory in the Eriksen Chevrolet IMCA Modifieds. Travis Denning started fifth and quickly drove his way to a second place finish. Eric Barnes started third and would finish in the same spot. Jeff Larson and Mitch Morris completed the first five.
Twenty-eight Matzen Trucking IMCA SportMods answered the feature call. Fifteen laps later, Ben Chapman stood in victory lane. David Engelkens led the first six laps of the main, before Chapman was able to squeeze under Engelkens for the lead. Once in front, Chapman was able to pull out to a sizeable lead.
Todd Dykema drove from eighth starting position to a second place finish. Jarrett Franzen, Justin Veloz, and Rayce Mullen finished third through fifth respectively.
The Koehler Electric Street Stock feature came down to a last lap pass for the win. Race leader Jesse Owen and Landen Chrestensen were both vying for the bottom groove with contact between the two, ruffling more than a feathers. At the stripe, Chrestensen held a 0.011 second advantage for the win. Behind Owen, Nick Hixson finished third, with Zach Zuberbier fourth and Cary Brown fifth.
Jeff Larson also went wire to wire in the Kunes Nissan IMCA Stock Car feature. Justin Kay started fifth and wound up in second. Third place went to Gage Neal. Lee Kinsella and Rick Schriner completed the top five.
Cyle Hawkins scored his second straight QCjeeps.com Sport Compact feature win. Hawkins led the first ten laps, but coming to the white flag, Jake Benischek edged in front. Hawkins and Dustin Forbes returned the favor on the final lap, dropping Benischek down to third. Shawn McDermott and Trent Lebarge finished fourth and fifth respectively.
Midwest Jalopies completed the racing program. Matt Fulton took the win over Austin Honts and Mark Merfeld.
Exciting stock car racing at Davenport Speedway continues next Friday night, May 5th. All six weekly classes win be in action. Also coming to Davenport Speedway is the Castrol FloRacing Night in America on Wednesday, May 17th.
Results:
Davenport Speedway
April 28, 2023 –
IMCA Late Models
Heat #1: 1. Matt Ryan; 2. Chuck Hanna; 3. Steve Johnson; 4. Anthony Franklin; 5. LeRoy Brenner;
Heat #2: 1. Justin Kay; 2. Bryan Klein; 3. Andy Nezworski; 4. Chance Huston; 5. Gary Webb;
Feature: 1. Justin Kay; 2. Andy Nezworski; 3. Chuck Hanna; 4. Bryan Klein; 5. Fred Remley; 6. Matt Ryan; 7. Gary Webb; 8. Doug Burkhead; 9. Steve Johnson; 10. Jeff Classen; 11. Chance Huston; 12. Broderick Prescott; 13. Josh Woodruff; 14. Anthony Franklin; 15. LeRoy Brenner; (1-DNS)
IMCA Modifieds;
Heat #1: 1. Matt Werner; 2. Scott Lemke; 3. Mitch Way; 4. Brandon Jewell; 5. Craig Crawford;
Heat #2: 1. Eric Barnes; 2. Jeff Larson; 3. Mitch Morris; 4. Jake Morris; 5. Kory Meyer;
Heat #3: 1. Chris Zogg; 2. Travis Denning; 3. Kyle Montgomery; 4. Matt Stein; 5. Charlie Mohr;
Feature: 1. Chris Zogg; 2. Travis Denning; 3. Eric Barnes; 4. Jeff Larson; 5. Mitch Morris; 6. Matt Werner; 7. Brandon Jewell; 8. Charlie Mohr; 9. Scott Lemke; 10. Jeremy Gustaf; 11. Tony VonDresky; 12. Jason Pershy; 13. Josh Geigle; 14. Kory Meyer; 15. Craig Crawford; 16. Carey Umbarger; 17. Jon Coombs; 18. Nick Hillyer; 19. Richard Vela; 20. Alex VerVynck; 21. Patrick Moore; 22. Mitch Way; 23. Kyle Montgomery; 24. Matt Stein; 25. Jake Morris; 26. Rob Dominacki; 27. Mike Garland;
IMCA SportMod
Heat #1: 1. Tony Olson; 2. Ben Chapman; 3. Ryan Walker; 4. David Engelkens; 5. Ryan Reed;
Heat #2: 1. Justin Veloz; 2. Rayce Mullen; 3. TJ Patz; 4. Levi Heath; 5. Mike Clausen;
Heat #3: 1. Todd Dykema; 2. Jarrett Franzen; 3. Kevin Goben; 4. Justin Schroeder; 5. Trey Grimm;
Feature: 1. Ben Chapman; 2. Todd Dykema; 3. Jarrett Franzen; 4. Justin Veloz; 5. Rayce Mullen; 6. Ryan Reed; 7. David Engelkens; 8. Justin Schroeder; 9. Trey Grimm; 10. Mitch Strayer; 11. Randy Farrell; 12. Rance Powell; 13. John Freeman; 14. Dakota Cole; 15. Mike Clausen; 16. Bryan Ritter; 17. Don Hatfield; 18. Trevor White; 19. Levi Heath; 20. Brad Salisberry; 21. Draython Schanfish; 22. Erick Turner; 23. Ryan Walker; 24. Kevin Goben; 25. Cole Stichter; 26. TJ Patz; 27. Tony Olson; 28. Jeff Waterfall; (2-DNS)
IMCA Stock Cars
Heat #1: 1. Chase Zaruba; 2. Jeff Larson; 3. Rick Schriner; 4. Lee Kinsella; 5. David Brandies;
Heat #2: 1. Keegan Wells; 2. Gage Neal; 3. Justin Kay; 4. Kaden Reynolds; 5. Christian Jordan;
Feature: 1. Jeff Larson; 2. Justin Kay; 3. Gage Neal; 4. Lee Kinsella; 5. Rick Schriner; 6. Chase Zaruba; 7. Christian Jordan; 8. Keegan Wells; 9. Scott Jordan; 10. Kaden Reynolds; 11. David Brandies; 12. Brandon Comins; (2-DNS)
Street Stocks
Heat #1: 1. Nick Hixson; 2. Jesse Owen; 3. Landen Chrestensen; 4. Zach Zuberbier; 5. Shad Murphy;
Feature: 1. Landen Chrestensen; 2. Jesse Owen; 3. Nick Hixson; 4. Zach Zuberbier; 5. Cary Brown; 6. Jeff Struck Jr.; 7. Shad Murphy; 8. Kyler Hickenbottom; 9. Dave Wadsager; (1-DNS)
Sport Compacts
Heat #1: 1. Dustin Forbes; 2. Cyle Hawkins; 3. Trent LeBarge; 4. Jake Benischek; 5. Shawn McDermott;
Feature: 1. Cyle Hawkins; 2. Dustin Forbes; 3. Jake Beenischek; 4. Shawn McDermott; 5. Trent Lebarge; 6. Roy Schmidt; 7. Jason Rhoads; 8. Dustin Munn; (2-DNS)
Midwest Jalopies
Heat #1: 1. Matt Fulton; 2. Austin Honts; 3. Mark Merfeld; 4. Tanner Gerard; 5. Jeff Blunt;
Feature: 1. Matt Fulton; 2. Austin Honts; 3. Mark Merfeld; 4. Pat Bailey; 5. Tanner Gerard; 6. Jeff Blunt; 7. Dennis Blunt; (2-DNS)
---
Article Credit: Mike McGuire
Submitted By: Derek Collum
Back to News