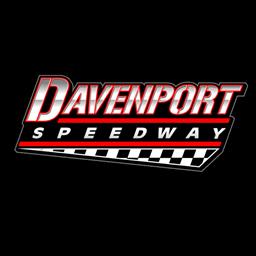 5/17/2023
Davenport Speedway
---
Erb pockets Davenport FloRacing win
DAVENPORT, Ia. (May 17, 2023) Castrol FloRacing Night in America roared into the Davenport Speedway Wednesday night. The biggest names in dirt late model racing were on hand to compete for the $23,023 first-place prize.
Dennis Erb Jr. of Carpentersville, Illinois was up to the task. The defending World of Outlaws Late Model Champion led thirty of the fifty laps en route to the victory. Erb started fourth and would work his way into the lead by lap nineteen. Dennis used the low groove to get by Mason Zeigler and take the lead.
Zeigler fought back to lead laps 20 and 21. Erb went to the front again. This time it was for good. Hudson O'Neal started seventh, but would end in second. Bobby Pierce grabbed third, ahead of Brandon Overton and Ricky Thorton Jr.
Of the forty Castrol FloRacing Night in America late model entries, Mike Marlar set the pace in qualifying with a lap of 13.321 seconds. The four heat race wins went to Marlar, Bobby Pierce, Mason Zeigler, and Dennis Erb Jr. Chris Simpson and Kyle Bronson won the B-mains
Tim Ward took the lead of the Eriksen Chevrolet IMCA Modified feature midway through the twenty-lap race and never looked back. Ward would finish nearly four seconds ahead of Dylan Thorton in second. Eric Barnes started third and would finish there. Eric was followed by Chris Zogg and Mitch Morris.
There will be no racing at Davenport Speedway this Friday, May 19th. Our next event will feature the SLMR Hoker Trucking East Series on Friday, May 26th. More information will be available on the Davenport Speedway-K Promotions facebook page or on our website at "davenportiaspeedway.com".
Results:
Davenport Speedway
May 17, 2023 –
FloRacing Super Late Models
Qualifying: Mike Marlar - Winfield, TN (13.321 seconds)
Heat #1: 1. Mike Marlar; 2. Jonathan Davenport; 3. Brandon Overton; 4. Ryan Gustin; 5. Devin Moran;
Heat #2: 1. Bobby Pierce; 2. Hudson O'Neal; 3. Ricky Thorton Jr.; 4. Spencer Hughes; 5. Tim McCreadie;
Heat #3: 1. Mason Zeigler; 2. Jimmy Owens; 3. Max Blair; 4. Chad Simpson; 5. Daulton Wilson;
Heat #4: 1. Dennis Erb Jr.; 2. Cade Dillard; 3. Earl Pearson; 4. Brandon Sheppard; 5. Frank Heckenast Jr.;
B-Feature 1: 1. Chris Simpson; 2. Tim McCreadie; 3. Devin Moran; 4. Tyler Erb; 5. Ross Robinson;
B-Feature 2: 1. Kyle Bronson; 2. Frank Heckenast Jr.; 3. Daulton Wilson; 4. Garrett Alberson; 5. Daniel Hilsabeck;
Feature: 1. Dennis Erb Jr.; 2. Hudson O'Neal; 3. Bobby Pierce; 4. Brandon Overton; 5. Ricky Thorton Jr.; 6. Kyle Bronson; 7. Jonathan Davenport; 8. Mason Zeigler; 9. Brandon Sheppard; 10. Ryan Gustin; 11. Jimmy Owens; 12. Chad Simpson; 13. Chris Simpson; 14. Tanner English; 15. Tim McCreadie; 16. Earl Pearson Jr.; 17. Frank Heckenast Jr.; 18. Cade Dillard; 19. Mike Marlar; 20. Max Blair; 21. Spencer Hughes; 22. Devin Moran;
IMCA Modifieds
Heat #1: 1. Brian Harris; 2. Jeff Aikey; 3. Chris Zogg; 4. Kyle Montgomery; 5. Michael Leach;
Heat #2: 1. Tim Ward; 2. Dylan Thorton; 3. Travis Denning; 4. Mitch Way; 5. Andrew Hamburg;
Heat #3: 1. Eric Barnes; 2. Charlie Mohr; 3. Scotte Lemke; 4. Mitch Morris; 5. Matt Stein;
Feature: 1. Tim Ward; 2. Dylan Thorton; 3. Eric Barnes; 4. Chris Zogg; 5. Mitch Morris; 6. Travis Denning; 7. Jeff Larson; 8. Charlie Mohr; 9. Dustin Smith; 10. Scotte Lemke; 11. Kyle Montgomery; 12. Jake Morris; 13. Michael Leach; 14. Matt Stein; 15. Jason Pershy; 16. Brandon Jewell; 17. Kory Meyer; 18. Brian Harris; 19. Jeff Aikey; 20. Andrew Hamburg; 21. Mitch Way;
---
Article Credit: Mike McGuire
Submitted By: Derek Collum
Back to News