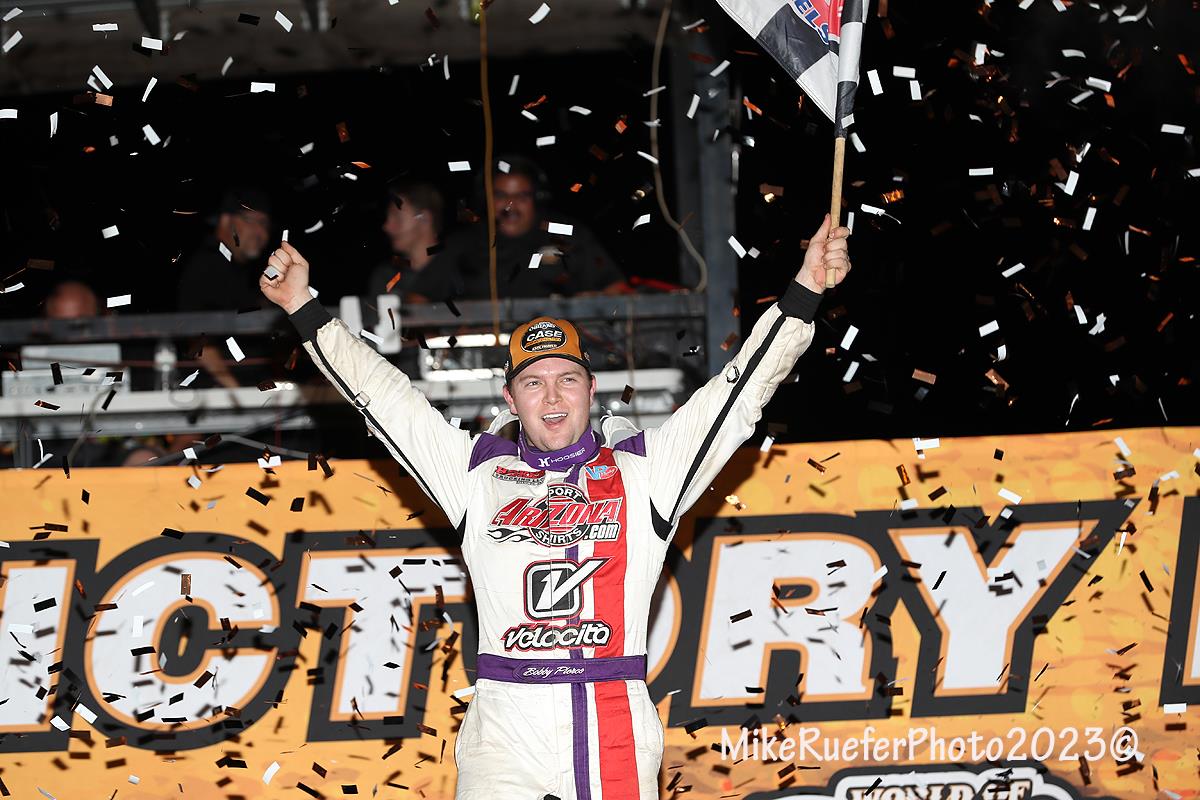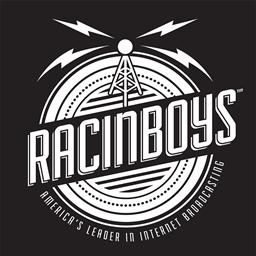 ---
Pierce goes back-to-back at Davenport
By Mike Warren, WOO Sprint Series PR (Davenport, IA) -- Entering Friday night at Davenport Speedway, Bobby Pierce was undefeated in three World of Outlaws CASE Construction Equipment Late Model Series Features contested in Iowa. But he had to make the right tire choice to keep that streak alive.
His decision to run a harder tire paid off, as he passed Chris Madden on Lap 20 to earn his second consecutive My Place Hotels Quad Cities 150 presented by Hoker Trucking win.
PHOTO CREDIT: Mike Ruefer
Madden, the pole-sitter, grabbed the early lead in the 35-lap battle, sliding in front of Cade Dillard in Turn 2 on the first lap.
After a caution slowed the field on Lap 5, Madden aced the restart, staying ahead of 2015 Series champion Shane Clanton. However, that's when the race's longest green-flag run began, and Pierce started climbing toward the front.
The Oakwood, IL driver stayed in third for 10 laps before his Longhorn Chassis gained momentum on the outside. He passed Clanton for second on Lap 17 and wasted no time closing on Madden's #44.
On Lap 20, the "Smooth Operator" made his move, driving around Madden on the top of Turns 3 and 4, nosing ahead of the Gray Court, SC driver, as the two crossed the start/finish line.
From there, not even a Lap 27 caution could stop Pierce as he held on to score his second $10,000 prize of the weekend and fourth consecutive World of Outlaws win in the Hawkeye State.
Pierce said he was worried his tires wouldn't hold up as he battled a harder track surface than on Thursday.
"In the first 10 laps, the 3's were definitely eating me up," Pierce said. "But then I had to get on the gas to get going. My 4 probably looks worse than their 3's because I had to abuse it to get it to go.
"I don't know if we would've won on a 3. I think [Madden] was pretty good. Clanton was pretty good. And starting third, it would've been hard passing Chris. But I figured if I kept him in my sights with the 4, and those 3's started to fade, as long as my four didn't tear up, I thought I'd be alright. I think the last four laps, I was hanging on."
The win is Pierce's 10th Series win of 2023, becoming the first driver to score double-digit victories in a season since four-time Series champion Brandon Sheppard earned 14 triumphs in 2020.
He credits his team's ability to keep pushing after dealing with mechanical issues during Sunshine Nationals at Volusia Speedway Park in January.
"We didn't know how this would go," Pierce said. "I'm glad we stayed on the tour. I know back at Volusia, we were bummed out when those first two nights didn't go our way. We stayed on it. I was really looking forward to running it and getting to these new tracks and stuff like that. I got to give a huge shout-out to my crew and Longhorn, Bilstein, and Vic Hill Engines.
"The car's been good, and it's given me a little extra edge than what I've had. And the older I get, the more experienced I get. It's another good point night, obviously, with the win. And that's the goal. We're trying to build this points thing before we get back down South."
Pierce extended his lead on Madden to 126 points after "Smokey" crossed the line second.
Even though he went with a softer tire than Pierce, Madden said he was content with how his new Longhorn Chassis ran on its second night out.
"We had a different tire combination than he had," Madden said. "I really couldn't run that top where he was. But overall, I think we had a great night, and we're getting there. We're just building on a brand-new chassis change here. I'm very satisfied with the direction we went tonight. And I hope we'll be one spot better on [Saturday]."
Sheppard rounded out the podium with his second third-place finish of the weekend. The New Berlin, IL driver said his car was better on longer runs, as he could maintain his tires despite going with the NLMT3 option.
"My car has been really balanced," Sheppard said. "I could move all over the racetrack. I think a lot of these guys have been overheating some tires a little bit. So, in five or 10 laps, their tires start to fade, and my car stays after it. We've found some stuff that we like a little bit, but we're still lacking a little in Qualifying. But overall, we're close, but we're just missing them wins. We just have to keep plugging away."
Defending Series champion Dennis Erb Jr. finished fourth, and Clanton rounded out the top five.
The Fox Factory Hard Charger, Ryan Gustin, finished sixth after moving up nine spots.
Nick Hoffman was the Germfree Rookie of the Race, finishing 12th.
UP NEXT: The World of Outlaws CASE Late Models head back to Davenport on Saturday, Aug. 26, for the final night of the My Place Hotels Quad Cities 150 presented by Hoker Trucking along with the Xtreme Outlaw Midget Series presented by Toyota. The Late Models will battle for $30,000 in an 80-lap finale. FOR TICKETS: CLICK HERE.
If you can't make it to the tracks, you can watch every World of Outlaws CASE Construction Equipment Late Model race live on DIRTVision.?
RESU:LTS
CASE Late Mode Feature (35 Laps): 1. 32-Bobby Pierce[3]; 2. 44-Chris Madden[1]; 3. B5-Brandon Sheppard[8]; 4. 28-Dennis Erb Jr[11]; 5. 25-Shane Clanton[4]; 6. 19R-Ryan Gustin[15]; 7. 40B-Kyle Bronson[7]; 8. 3S-Brian Shirley[6]; 9. 96V-Tanner English[14]; 10. 97-Cade Dillard[2]; 11. 25F-Jason Feger[13]; 12. 9-Nick Hoffman[9]; 13. 16-Tyler Bruening[19]; 14. 25S-Chad Simpson[17]; 15. B1-Brent Larson[24]; 16. 18-Shannon Babb[10]; 17. 31-Kye Blight[12]; 18. 11-Gordy Gundaker[23]; 19. 99JR-Frank Heckenast Jr[5]; 20. 29-Spencer Diercks[16]; 21. 111-Matt Lux[18]; 22. 30-Todd Cooney[20]; 23. 49-Jake Timm[21]; 24. 51-Matt Furman[22]
Last Chance Showdown 1 (10 Laps): 1. 25S-Chad Simpson[1]; 2. 16-Tyler Bruening[3]; 3. 49-Jake Timm[4]; 4. 99-Jeff Larson[9]; 5. 32B-Cody Laney[6]; 6. 98-Jason Rauen[5]; 7. 22-Daniel Hilsabeck[7]; 8. (DNS) 32S-Chris Simpson; 9. (DNS) 07-Matt Ryan
Last Chance Showdown 2 (10 Laps): 1. 111-Matt Lux[4]; 2. 30-Todd Cooney[1]; 3. 51-Matt Furman[5]; 4. B1-Brent Larson[3]; 5. 14W-Dustin Walker[7]; 6. 14G-Trevor Gundaker[2]; 7. 42H-Johnathan Huston[8]; 8. (DNS) 11-Gordy Gundaker; 9. (DNS) 1ST-Johnny Scott
Case No.1 Engine Oil Heat 1 (8 Laps): 1. 97-Cade Dillard[1]; 2. B5-Brandon Sheppard[2]; 3. 9-Nick Hoffman[3]; 4. 25F-Jason Feger[6]; 5. 25S-Chad Simpson[5]; 6. 16-Tyler Bruening[7]; 7. 98-Jason Rauen[4]; 8. 22-Daniel Hilsabeck[8]; 9. 99-Jeff Larson[9]
Heat 2 (8 Laps): 1. 32-Bobby Pierce[1]; 2. 40B-Kyle Bronson[4]; 3. 28-Dennis Erb Jr[3]; 4. 19R-Ryan Gustin[2]; 5. 32S-Chris Simpson[7]; 6. 49-Jake Timm[6]; 7. 32B-Cody Laney[8]; 8. 07-Matt Ryan[5]
Heat 3 (8 Laps): 1. 25-Shane Clanton[1]; 2. 3S-Brian Shirley[2]; 3. 18-Shannon Babb[3]; 4. 96V-Tanner English[5]; 5. 30-Todd Cooney[8]; 6. B1-Brent Larson[7]; 7. 51-Matt Furman[6]; 8. 14W-Dustin Walker[9]; 9. 1ST-Johnny Scott[4]
Heat 4 (8 Laps): 1. 44-Chris Madden[1]; 2. 99JR-Frank Heckenast Jr[2]; 3. 31-Kye Blight[3]; 4. 29-Spencer Diercks[5]; 5. 14G-Trevor Gundaker[4]; 6. 111-Matt Lux[6]; 7. 11-Gordy Gundaker[7]; 8. 42H-Johnathan Huston[8]
Qualifying Group A (2 Laps): 1. 97-Cade Dillard, 00:13.516[16]; 2. 32-Bobby Pierce, 00:13.554[3]; 3. B5-Brandon Sheppard, 00:13.564[14]; 4. 19R-Ryan Gustin, 00:13.565[15]; 5. 9-Nick Hoffman, 00:13.585[8]; 6. 28-Dennis Erb Jr, 00:13.665[4]; 7. 98-Jason Rauen, 00:13.698[5]; 8. 40B-Kyle Bronson, 00:13.708[13]; 9. 25S-Chad Simpson, 00:13.739[6]; 10. 07-Matt Ryan, 00:13.756[12]; 11. 25F-Jason Feger, 00:13.791[17]; 12. 49-Jake Timm, 00:13.808[11]; 13. 16-Tyler Bruening, 00:13.847[10]; 14. 32S-Chris Simpson, 00:13.911[9]; 15. 22-Daniel Hilsabeck, 00:14.003[1]; 16. 32B-Cody Laney, 00:14.056[7]; 17. 99-Jeff Larson, 00:14.136[2]
Qualifying Group B (2 Laps): 1. 25-Shane Clanton, 00:13.583[9]; 2. 44-Chris Madden, 00:13.596[14]; 3. 3S-Brian Shirley, 00:13.608[2]; 4. 99JR-Frank Heckenast Jr, 00:13.714[10]; 5. 18-Shannon Babb, 00:13.756[4]; 6. 31-Kye Blight, 00:13.786[13]; 7. 1ST-Johnny Scott, 00:13.880[1]; 8. 14G-Trevor Gundaker, 00:13.929[11]; 9. 96V-Tanner English, 00:13.930[5]; 10. 29-Spencer Diercks, 00:13.935[7]; 11. 51-Matt Furman, 00:14.029[8]; 12. 111-Matt Lux, 00:14.090[6]; 13. B1-Brent Larson, 00:14.175[17]; 14. 11-Gordy Gundaker, 00:14.249[3]; 15. 30-Todd Cooney, 00:14.270[15]; 16. 42H-Johnathan Huston, 00:14.286[16]; 17. 14W-Dustin Walker, 00:14.886[12]
---
Submitted By: Kirk Elliott
Back to News