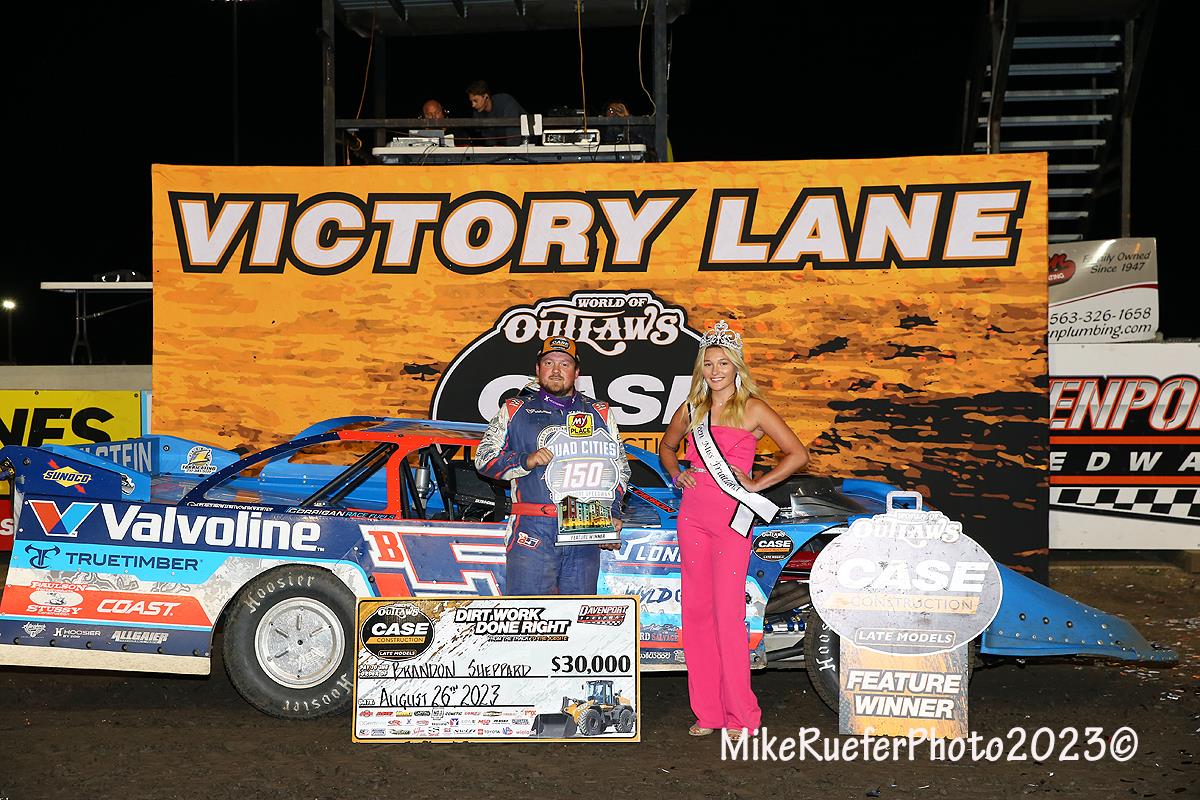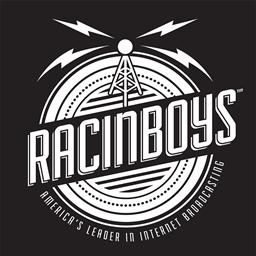 ---
Brandon Sheppard wins Quad Cities 150 finale
By Mike Warren, WOO Late Model Series PR (Davenport, IA) -- Brandon Sheppard knew he'd face many challenges when he started Sheppard-Riggs Racing in 2023. And on Saturday at Davenport Speedway, the four-time World of Outlaws CASE Construction Equipment Late Model Series champion overcame one of those obstacles.
PHOTO CREDIT: Mike Ruefer
After going winless in the first 28 races of 2023, the New Berlin, IL driver scored his first Series win of the season in the My Place Hotels Quad Cities 150 presented by Hoker Trucking finale.
Chris Madden led the field to the green in the 80-lap Feature, but four cautions slowed the field in the race's first quarter—the fourth coming on Lap 16. That's when the Gray Court, SC driver had his first challenge.
On the Lap 16 restart, Series points leader Bobby Pierce slid under Madden in Turn 1 and nosed out ahead of the #44 on the backstretch. Madden withstood that challenge, driving back around Pierce to keep the lead. Pierce then hounded Madden for the next 20 laps, keeping pace with "Smokey" as they battled around the 1/4-mile bullring,
Eventually, the long green-flag run played into Pierce's hands, as he pulled even with Madden on the bottom as they clicked off Lap 35. But the next time around, the "Smooth Operator" found the burst of speed he needed, nosing ahead of Madden to complete Lap 36.
The Oakwood, IL driver pulled away, seeming destined for a weekend sweep until everything changed on Lap 58. Pierce's right rear tire went flat, bringing out the caution and handing the lead to defending Series champion Dennis Erb Jr., who had just passed Madden for second.
Erb's lead was short-lived, though. With the Carpentersville, IL driver choosing the outside lane, Sheppard found the opening he needed on the bottom. When the two Illinois drivers returned to the start/finish line, Sheppard's momentum allowed him to inch past Erb's #28 as he wrestled the lead away.
From there, not even a late-race restart could keep Sheppard's #B5 out of Victory Lane, as he held on to win his first World of Outlaws Feature with Sheppard-Riggs Racing and first in a Longhorn Chassis.
"It feels awesome," Sheppard said. "My team's been working really hard. Everything has been starting to come our way a little bit. We've been starting to show consistency in the past couple of months, and Longhorn has been super easy to work with. It's been a trying year with a bunch of ups and downs, but nobody's given up on me one bit or questioned me one bit. It just feels good, and it means the world to be standing here."
The $30,000 triumph is Sheppard's 82nd World of Outlaws victory, and his fourth Series win at Davenport Speedway. It's a win, "B-Shepp" said, came down to how well he conserved his tires, along with the knowledge of past races at the track.
"If you could roll the bottom right, which we could all weekend, I knew if it ever came in, we were going to be there," Sheppard said. "I was able to keep my speed up good at the beginning of the race and not kill my tire. Not slip it too much up top, and not fall back. Once we were able to start moving around a little bit, that's when I knew my tire wasn't going to get hurt, and I could go wherever I needed to.
"I knew at the end of the day that the bottom is the place to be, and the top was just a little too dirty for me to be too tempted to go up there. So, I went with my gut. And sure enough, Dennis went up there to race guys on the outside, and we were able to win the race."
Tanner English finished second, his third podium in his last five World of Outlaws races at the track. The Benton, KY driver, who started 10th, used the same strategy that led him to victory in 2022, conserving his tires and keeping up his momentum on the bottom. But, he ultimately fell short.
"We were conserving the whole race and trying not to spin the tire," English said. "I had that in the back of my mind the whole time. Just trying to conserve. We went with a hard tire this year, not the softer option like last year. This tire game is different now. But we were right there, and I can't say enough about this team."
English's second-place finish also continues his streak of solid runs in long-distance races. In the five World of Outlaws races that were 60 laps or more, he's finished on the podium four times.
"I wish every race was 100 laps," English. "We'd spend more money on tires and motors, I think. But these long races are what I like. I like to conserve and be there at the end. And it just plays into my favor a little bit. I'm more conservative of a driver, and that's where they pay the big money."
Ryan Gustin, from Marshalltown, IA rounded out the podium after starting 11th. The "Reaper" made a late-race charge in the final 20 laps, moving from seventh to third on the outside lane.
"I saw everybody cut left on a restart, and I figured I didn't have anything to lose," Gustin said. "It was getting blacker and blacker up there. But on the flip side of things, that bottom got so, I think they got them tires pushed in or something where it was so short around the bottom where I had to carry a lot of speed.
"I thought we maybe had them there, but it just wasn't meant to be. Hats off to Brandon and Tanner. They drove a hell of a race."
Madden crossed the line fourth after falling as far back as sixth. He has two top fives in three nights racing a new Longhorn chassis.
He also gained on Pierce in the battle for the championship, cutting the lead to 116 points with eleven races remaining. Pierce rebounded to finish ninth after the flat tire.
Brian Shirley rounded out the top five—his seventh of the season.
Todd Cooney was the Germfree Rookie of the Race, finishing 13th. He was also Saturday's Fox Factory Hard Charger, moving up 10 positions.
UP NEXT: The World of Outlaws CASE Late Models return to Wisconsin on Friday, Sept. 1, for the Milton Hershey School Back to Class Showdown at Mississippi Thunder Speedway in Fountain City, WI. Then, the Series returns to Deer Creek Speedway in Spring Valley, MN, for the Labor Day Duel. Both Features will pay $20,000-to-win.
If you can't make it to the tracks, you can watch every World of Outlaws CASE Construction Equipment Late Model race live on DIRTVision.?
RESULTS
CASE Late Mode Feature (80 Laps): 1. B5-Brandon Sheppard[3]; 2. 96V-Tanner English[10]; 3. 19R-Ryan Gustin[11]; 4. 44-Chris Madden[1]; 5. 3S-Brian Shirley[9]; 6. 28-Dennis Erb Jr[2]; 7. 99JR-Frank Heckenast Jr[16]; 8. 25S-Chad Simpson[13]; 9. 32-Bobby Pierce[4]; 10. 40B-Kyle Bronson[7]; 11. 97-Cade Dillard[6]; 12. 16-Tyler Bruening[17]; 13. 30-Todd Cooney[23]; 14. 25-Shane Clanton[8]; 15. B1-Brent Larson[21]; 16. 9-Nick Hoffman[5]; 17. 25F-Jason Feger[12]; 18. 14W-Dustin Walker[24]; 19. 32S-Chris Simpson[19]; 20. 32B-Cody Laney[18]; 21. 111-Matt Lux[20]; 22. 18-Shannon Babb[14]; 23. 11-Gordy Gundaker[22]; 24. 14G-Trevor Gundaker[15]
Last Chance Showdown 1 (10 Laps): 1. 16-Tyler Bruening[1]; 2. 32S-Chris Simpson[4]; 3. B1-Brent Larson[6]; 4. 14W-Dustin Walker[7]; 5. 31-Kye Blight[2]; 6. 51-Matt Furman[5]; 7. 48-Tim Lance[9]; 8. 30-Todd Cooney[3]; 9. (DNS) 49-Jake Timm; 10. (DNS) 15K-Justin Kay; 11. (DNS) 1ST-Johnny Scott
Last Chance Showdown 2 (10 Laps): 1. 32B-Cody Laney[2]; 2. 111-Matt Lux[6]; 3. 11-Gordy Gundaker[1]; 4. 99-Jeff Larson[4]; 5. 42H-Johnathan Huston[8]; 6. (DNS) 22-Daniel Hilsabeck; 7. (DNS) 98-Jason Rauen; 8. (DNS) 07-Matt Ryan; 9. (DNS) 93-Jay Johnson; 10. (DNS) 29-Spencer Diercks
Case No.1 Engine Oil Heat 1 (8 Laps): 1. 32-Bobby Pierce[1]; 2. 97-Cade Dillard[2]; 3. 3S-Brian Shirley[3]; 4. 25S-Chad Simpson[4]; 5. 16-Tyler Bruening[5]; 6. 30-Todd Cooney[6]; 7. 51-Matt Furman[8]; 8. 14W-Dustin Walker[9]; 9. 48-Tim Lance[10]; 10. (DNS) 1ST-Johnny Scott
Heat 2 (8 Laps): 1. B5-Brandon Sheppard[1]; 2. 25-Shane Clanton[2]; 3. 19R-Ryan Gustin[3]; 4. 14G-Trevor Gundaker[7]; 5. 31-Kye Blight[5]; 6. 32S-Chris Simpson[8]; 7. B1-Brent Larson[4]; 8. 49-Jake Timm[6]; 9. (DNS) 15K-Justin Kay
Heat 3 (8 Laps): 1. 44-Chris Madden[1]; 2. 9-Nick Hoffman[2]; 3. 96V-Tanner English[3]; 4. 18-Shannon Babb[4]; 5. 11-Gordy Gundaker[5]; 6. 22-Daniel Hilsabeck[6]; 7. (DNS) 98-Jason Rauen; 8. (DNS) 07-Matt Ryan; 9. (DNS) 93-Jay Johnson
Heat 4 (8 Laps): 1. 28-Dennis Erb Jr[1]; 2. 40B-Kyle Bronson[2]; 3. 25F-Jason Feger[3]; 4. 99JR-Frank Heckenast Jr[4]; 5. 32B-Cody Laney[8]; 6. 99-Jeff Larson[7]; 7. 111-Matt Lux[6]; 8. 42H-Johnathan Huston[9]; 9. (DNS) 29-Spencer Diercks
---
Submitted By: Kirk Elliott
Back to News