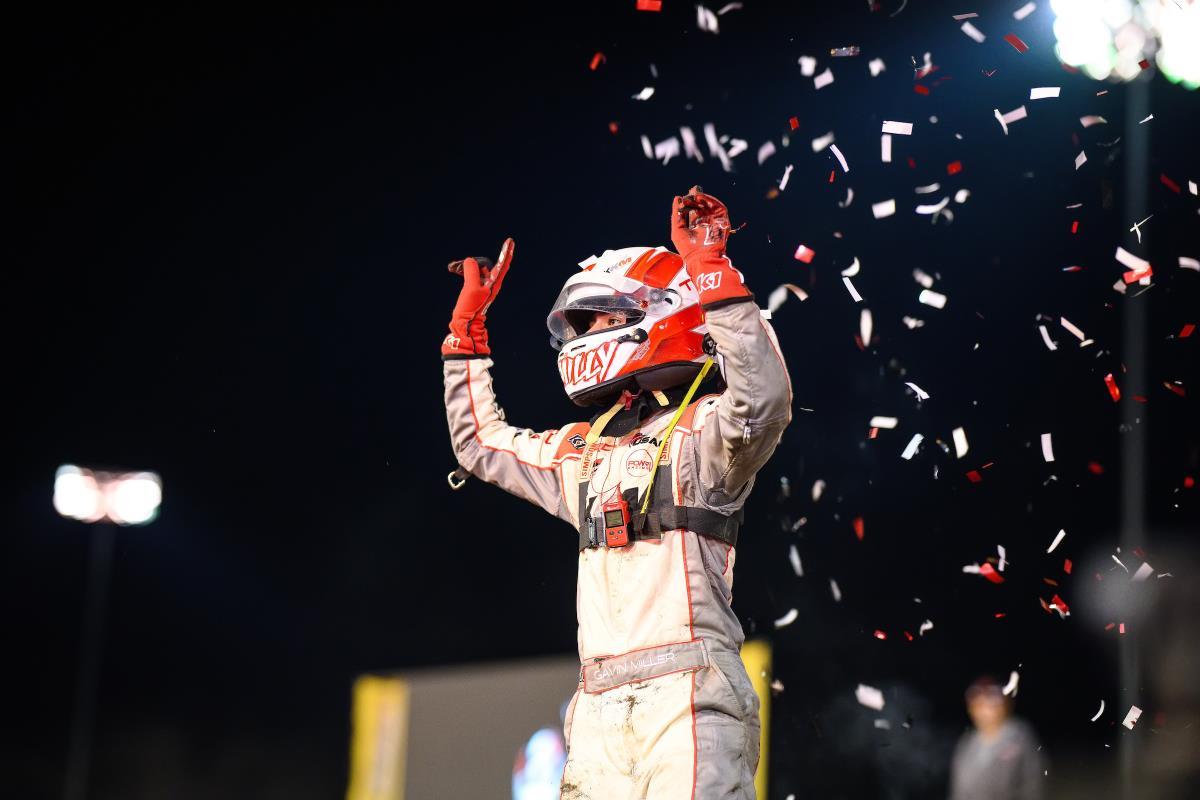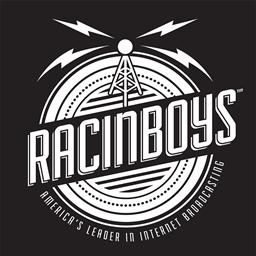 ---
Gavin Miller tops Xtreme Outlaw Midgets
By Jordan Delucia (Davenport, IA) -- Over five months worth of work. Twenty-one Features. Hundreds of laps. And now, finally, Gavin Miller is an Xtreme Outlaw Midget Series presented by Toyota Feature winner.
Miller, the 16-year-old Midget rookie from Allentown, PA, had come close to his first career win with the Series multiple times this year but was unable to seal the victory. Four past podium finishes with no wins to show for it was getting old for he and Keith Kunz Motorsports (KKM) car chief Brandon Selph, and the duo finally came up with the right combination Saturday night at Davenport Speedway to score the win in the My Place Hotels Quad Cities 150 presented by Hoker Trucking finale.
PHOTO CREDIT: Jacy Norgaard
"We've definitely had a lot of ups-and-downs," Miller said. "[Selph] never gave up, I never gave up, and I think that's why we work so well together.
"He gave me a great car tonight. I've gotta thank him, thank my family, Keith [Kunz] and Pete [Willoughby] – thanks to all of them."
What's more, Miller came all the way from 11th in 18 laps to take the lead and hold on from there for the POWRi National Midget League co-sanctioned Feature win, making him the deepest-starting Feature winner in Xtreme Outlaw competition this season.
His speed-sauce was nothing more than the wet dirt on the bottom around the 1/4-mile oval.
"I saw there was a lot of moisture on the bottom, so I got down there before everybody else," Miller said. "First person to find that is usually gonna go right to the front, and I happened to find it."
When polesitter Jade Avedisian jumped out to the early lead in her preferred line, it appeared as though the top lane was going to reign supreme. The young Californian led the first 17 laps of the race until Miller took it from her with a burst of speed on the bottom out of Turn 4, beating her into Turn 1 and hugging the infield tires to secure the spot.
"I went to try to clear him into Turn 1, and we were neck-and-neck, and then he got a great launch off the back straightaway, and that was it," Avedisian said.
From his perspective, Miller knew the bottom was the place to race, even to make the pass for the lead. He went by high-flying teammate Ryan Timms the lap before to take second before taking the top spot from Avedisian the same way.
"I knew Ryan hadn't quite seen me yet, and I knew he wasn't gonna go sniff the bottom," Miller said. "He was just gonna slide [Avedisian] and get her out of the way. He didn't really see me on the bottom, and I just swept right by them."
"I saw him on the bottom, and I knew the bottom was good," Timms said. "I figured since [Cannon McIntosh and I] were battling and breaking each other's momentum, [Miller] just got a great run on the bottom and once I got going around the top, the bottom wasn't gonna be quicker. But sure enough, it was."
Though he began pulling away from the field as the closing laps neared, Miller was not out of the woods yet. One final restart awaited him with three laps remaining, which he met without struggle. Miller hit his marks and brought the field back around to the checkers to bag the $5,000 grand prize and his third national Midget series victory of the year.
"It feels great," Miller said. "Last bunch of races, we've been top-five or top-six. It feels great to finally get this one done."
Timms crossed the stripe second after winning the battle with Avedisian and Xtreme Outlaw points leader Cannon McIntosh after the final restart, earning him a bit of redemption after breaking while leading during Friday night's main event. Avedisian crossed in third to complete an all-KKM podium and keep her points deficit to McIntosh in the 20s with only eight races remaining.
UP NEXT
The Xtreme Outlaw Midgets are back in action next Friday-Saturday, Sept. 1-2, at Paragon Speedway in Paragon, IN. Tickets will be on sale at the gate on race day. If you can't make it to the track to watch in person, stream every lap live on DIRTVision.
RESULTS
Feature (30 Laps): 1. 97-Gavin Miller[11]; 2. 67-Ryan Timms[2]; 3. 71-Jade Avedisian[1]; 4. 08-Cannon McIntosh[4]; 5. 7U-Zach Daum[5]; 6. 40-Chase McDermand[3]; 7. 26R-Corbin Rueschenberg[12]; 8. 19AZ-Hayden Reinbold[7]; 9. 21K-Karter Sarff[9]; 10. 3N-Mitchell Davis[14]; 11. 25K-Taylor Reimer[8]; 12. 97K-Cooper Williams[13]; 13. 25-Jacob Denney[6]; 14. 13-Elijah Gile[19]; 15. 31B-Kyle Beilman[16]; 16. 17B-Austin Barnhill[10]; 17. 33-Branigan Roark[17]; 18. 81-Dakota Gay[15]; 19. (DNS) 7X-Thomas Meseraull; 20. (DNS) 6B-Andy Baugh; 21. (DNS) 2H-Nick Hoffman
Heat 1 (8 Laps): 1. 7U-Zach Daum[2]; 2. 71-Jade Avedisian[4]; 3. 17B-Austin Barnhill[1]; 4. 21K-Karter Sarff[3]; 5. 3N-Mitchell Davis[5]; 6. 31B-Kyle Beilman[6]; 7. 13-Elijah Gile[7]
Heat 2 (8 Laps): 1. 40-Chase McDermand[3]; 2. 67-Ryan Timms[4]; 3. 19AZ-Hayden Reinbold[1]; 4. 97-Gavin Miller[2]; 5. 97K-Cooper Williams[5]; 6. (DNS) 6B-Andy Baugh; 7. (DNS) 2H-Nick Hoffman
Heat 3 (8 Laps): 1. 08-Cannon McIntosh[4]; 2. 25-Jacob Denney[3]; 3. 25K-Taylor Reimer[1]; 4. 26R-Corbin Rueschenberg[2]; 5. 81-Dakota Gay[6]; 6. 33-Branigan Roark[7]; 7. 7X-Thomas Meseraull[5]
Qualifying 1: 1. 71-Jade Avedisian, 00:14.535[5]; 2. 21K-Karter Sarff, 00:14.594[7]; 3. 7U-Zach Daum, 00:14.655[4]; 4. 17B-Austin Barnhill, 00:14.828[3]; 5. 3N-Mitchell Davis, 00:14.847[1]; 6. 31B-Kyle Beilman, 00:14.876[6]; 7. 13-Elijah Gile, 00:15.069[2]
Qualifying 2: 1. 67-Ryan Timms, 00:14.294[1]; 2. 40-Chase McDermand, 00:14.403[7]; 3. 97-Gavin Miller, 00:14.427[6]; 4. 19AZ-Hayden Reinbold, 00:14.524[4]; 5. 97K-Cooper Williams, 00:14.649[5]; 6. (DNS) 6B-Andy Baugh, 00:14.649; 7. (DNS) 2H-Nick Hoffman, 00:14.649
Qualifying 3: 1. 08-Cannon McIntosh, 00:14.389[2]; 2. 25-Jacob Denney, 00:14.486[6]; 3. 26R-Corbin Rueschenberg, 00:14.553[3]; 4. 25K-Taylor Reimer, 00:14.590[5]; 5. 7X-Thomas Meseraull, 00:14.622[1]; 6. 81-Dakota Gay, 00:15.123[7]; 7. 33-Branigan Roark, 00:15.609[4]
---
Submitted By: Kirk Elliott
Back to News