Thanks for the memories!
The season is over.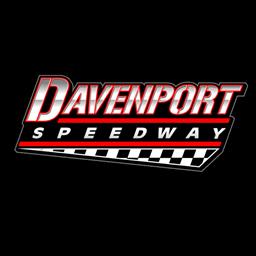 7/25/2023 - Davenport Speedway
Davenport, IA
Hoker 50 featuring MARS Late Models
Grandstand Admission
Adults $30
Kids (5 -12) $5
Kids (4 & Under) Free
Pit Pass
Adults $40
Kids (12 & Under) $20
Running Order (Subject to Change)
Hot Laps
MARS Super Late Models
IMCA Mods
Outlaw Stock Cars
MARS Super Late Model Qualifying
Track Prep (If Needed)
Opening Ceremonies
Heats
IMCA Mods (8)
Outlaw Stock Cars (8)
MARS Super Late Models (8)
Features
IMCA Mods (20)
Outlaw Stock Cars (15)
Track Prep
MARS Super Late Models (50)
Thank You for supporting Davenport Speedway.
IMCA Modifieds - Eriksen Chevrolet

11 entries

Outlaw Stock Cars - Koehler Electric

12 entries

DIRTcar Late Models

24 entries

MARS - Midwest Auto Racing Series
Available on FloRacing
Full Event Information on MyRacePass
IMCA Modifieds - Eriksen Chevrolet
Finish
Start
#
Competitor
Hometown
+/-
1
8
29D
Brad Dierks Clarence, IA
Clarence, IA
7
2
5
9Z
Chris Zogg New Liberty, IA
New Liberty, IA
3
3
9
93
Matt Werner Geneseo, IL
Geneseo, IL
6
4
1
99M
Charlie Mohr Bettendorf, IA
Bettendorf, IA
-3
5
6
D55
Scotte Lemke Rockford, IL
Rockford, IL
1
6
10
53
Matt Stein Davenport, IA
Davenport, IA
4
7
3
17
Jason Pershy Colona, IL
Colona, IL
-4
8
4
01M
Mitch Way Davenport, IA
Davenport, IA
-4
9
11
2X
Patrick Moore Moline, IL
Moline, IL
2
10
2
57
Andrew Hamburg Dixon, IL
Dixon, IL
-8
11
7
99
Brandon Jewell Camanche, IA
Camanche, IA
-4
8 Laps
Heat 1 - Top 5 Redraw
Finish
Start
#
Competitor
Hometown
+/-
1
2
29D
Brad Dierks Clarence, IA
Clarence, IA
1
2
1
17
Jason Pershy Colona, IL
Colona, IL
-1
3
3
93
Matt Werner Geneseo, IL
Geneseo, IL
-
4
6
99M
Charlie Mohr Bettendorf, IA
Bettendorf, IA
2
5
4
D55
Scotte Lemke Rockford, IL
Rockford, IL
-1
6
5
2X
Patrick Moore Moline, IL
Moline, IL
-1
All transfer
8 Laps
Heat 2 - Top 5 Redraw
Finish
Start
#
Competitor
Hometown
+/-
1
1
01M
Mitch Way Davenport, IA
Davenport, IA
-
2
4
9Z
Chris Zogg New Liberty, IA
New Liberty, IA
2
3
5
57
Andrew Hamburg Dixon, IL
Dixon, IL
2
4
3
53
Matt Stein Davenport, IA
Davenport, IA
-1
5
2
99
Brandon Jewell Camanche, IA
Camanche, IA
-3
All transfer
Outlaw Stock Cars - Koehler Electric
Finish
Start
#
Competitor
Hometown
+/-
1
7
4S
Jeff Struck Jr Davenport, IA
Davenport, IA
6
2
1
88T
Tony Von Dresky Long Grove, IA
Long Grove, IA
-1
3
4
20L
Landen Chrestensen Davenport, IA
Davenport, IA
1
4
10
70
Joe Bonney Maquoketa, IA
Maquoketa, IA
6
5
8
81
Cary Brown Davenport, IA
Davenport, IA
3
6
12
57B
Ben Hamburg Amboy, IL
Amboy, IL
6
7
9
63
Shad Murphy Davenport, IA
Davenport, IA
2
8
6
88
Jake Lund Davenport, IA
Davenport, IA
-2
9
11
95
Jesse Owen Colona, IL
Colona, IL
2
10
3
8
Rick Schriner Rock Island, IL
Rock Island, IL
-7
11
2
11T
Trevor Tucker Maquoketa, IA
Maquoketa, IA
-9
12
5
2
Nick Hixson Orion, IL
Orion, IL
-7
8 Laps
Heat 1 - Top 5 Redraw
Finish
Start
#
Competitor
Hometown
+/-
1
3
2
Nick Hixson Orion, IL
Orion, IL
2
2
1
81
Cary Brown Davenport, IA
Davenport, IA
-1
3
2
20L
Landen Chrestensen Davenport, IA
Davenport, IA
-1
4
6
70
Joe Bonney Maquoketa, IA
Maquoketa, IA
2
5
4
8
Rick Schriner Rock Island, IL
Rock Island, IL
-1
6
5
95
Jesse Owen Colona, IL
Colona, IL
-1
All transfer
8 Laps
Heat 2 - Top 5 Redraw
Finish
Start
#
Competitor
Hometown
+/-
1
6
4S
Jeff Struck Jr Davenport, IA
Davenport, IA
5
2
1
88T
Tony Von Dresky Long Grove, IA
Long Grove, IA
-1
3
2
11T
Trevor Tucker Maquoketa, IA
Maquoketa, IA
-1
4
3
63
Shad Murphy Davenport, IA
Davenport, IA
-1
5
5
88
Jake Lund Davenport, IA
Davenport, IA
-
6
4
57B
Ben Hamburg Amboy, IL
Amboy, IL
-2
All transfer
DIRTcar Late Models
Finish
Start
#
Competitor
Hometown
+/-
1
2
7
Drake Troutman Hyndman, PA
Hyndman, PA
1
2
7
58
Garrett Alberson Las Cruces, NM
Las Cruces, NM
5
3
4
99
Jeff Larson Freeport, IL
Freeport, IL
1
4
1
99JR
Frank Heckenast Jr Frankfort, IL
Frankfort, IL
-3
5
23
15K
Justin Kay Wheatland, IA
Wheatland, IA
18
6
8
21B
Rich Bell Sheffield, IL
Sheffield, IL
2
7
19
15S
Clayton Stuckey Shreveport, LA
Shreveport, LA
12
8
17
17
Tim Simpson Iowa City, IA
Iowa City, IA
9
9 DNF
11
51
Matt Furman Iowa City, IA
Iowa City, IA
2
10 DNF
3
32
Chris Simpson Oxford, IA
Oxford, IA
-7
11 DNF
13
15
Justin Duty Molalla, OR
Molalla, OR
2
12 DNF
15
22B
Jonathan Brauns Muscatine, IA
Muscatine, IA
3
13 DNF
18
4X
Jake Rainey Powder Springs, GA
Powder Springs, GA
5
14 DNF
5
24
Ryan Unzicker El Paso, IL
El Paso, IL
-9
15 DNF
21
12
Brandon Queen Keokuk, IA
Keokuk, IA
6
16 DNF
12
44
Blaze Burwell Mt Vernon, IL
Mt Vernon, IL
-4
17 DNF
10
25FE
Jason Feger Bloomington, IL
Bloomington, IL
-7
18 DNF
14
20W
Justin White Stevensville, MI
Stevensville, MI
-4
19 DNF
6
29
Spencer Diercks Davenport, IA
Davenport, IA
-13
20 DNF
16
38J
Jake Little Springfield, IL
Springfield, IL
-4
21 DNF
24
6
Gary Webb Blue Grass, IA
Blue Grass, IA
3
DNS
20
42
Johnathan Huston Columbus Junction, IA
Columbus Junction, IA
-
DNS
22
17A
Austin Howes Memphis, MO
Memphis, MO
-
DQ
9
4G
Bob Gardner Washington, IL
Washington, IL
-
Finish
Start
#
Competitor
Hometown
+/-
1
2
29
Spencer Diercks Davenport, IA
Davenport, IA
1
2
4
99JR
Frank Heckenast Jr Frankfort, IL
Frankfort, IL
2
3
1
58
Garrett Alberson Las Cruces, NM
Las Cruces, NM
-2
4
5
25FE
Jason Feger Bloomington, IL
Bloomington, IL
1
5
3
15
Justin Duty Molalla, OR
Molalla, OR
-2
6
6
38J
Jake Little Springfield, IL
Springfield, IL
-
7
7
15S
Clayton Stuckey Shreveport, LA
Shreveport, LA
-
8
8
17A
Austin Howes Memphis, MO
Memphis, MO
-
All transfer
Finish
Start
#
Competitor
Hometown
+/-
1
1
7
Drake Troutman Hyndman, PA
Hyndman, PA
-
2
2
24
Ryan Unzicker El Paso, IL
El Paso, IL
-
3
4
21B
Rich Bell Sheffield, IL
Sheffield, IL
1
4
3
51
Matt Furman Iowa City, IA
Iowa City, IA
-1
5
5
20W
Justin White Stevensville, MI
Stevensville, MI
-
6
8
17
Tim Simpson Iowa City, IA
Iowa City, IA
2
7 DNF
7
42
Johnathan Huston Columbus Junction, IA
Columbus Junction, IA
-
8 DNF
6
15K
Justin Kay Wheatland, IA
Wheatland, IA
-2
All transfer
Finish
Start
#
Competitor
Hometown
+/-
1
1
32
Chris Simpson Oxford, IA
Oxford, IA
-
2
4
99
Jeff Larson Freeport, IL
Freeport, IL
2
3
3
4G
Bob Gardner Washington, IL
Washington, IL
-
4
2
44
Blaze Burwell Mt Vernon, IL
Mt Vernon, IL
-2
5
7
22B
Jonathan Brauns Muscatine, IA
Muscatine, IA
2
6
5
4X
Jake Rainey Powder Springs, GA
Powder Springs, GA
-1
7
6
12
Brandon Queen Keokuk, IA
Keokuk, IA
-1
8
8
6
Gary Webb Blue Grass, IA
Blue Grass, IA
-
All transfer
Finish
Start
#
Competitor
Hometown
Time
1
5
58
Garrett Alberson Las Cruces, NM
Las Cruces, NM
13.515
2
21
7
Drake Troutman Hyndman, PA
Hyndman, PA
13.586
3
2
32
Chris Simpson Oxford, IA
Oxford, IA
13.713
4
17
29
Spencer Diercks Davenport, IA
Davenport, IA
13.755
5
20
24
Ryan Unzicker El Paso, IL
El Paso, IL
13.876
6
12
44
Blaze Burwell Mt Vernon, IL
Mt Vernon, IL
13.913
7
9
15
Justin Duty Molalla, OR
Molalla, OR
13.975
8
6
51
Matt Furman Iowa City, IA
Iowa City, IA
13.990
9
15
4G
Bob Gardner Washington, IL
Washington, IL
14.005
10
10
99JR
Frank Heckenast Jr Frankfort, IL
Frankfort, IL
14.062
11
4
21B
Rich Bell Sheffield, IL
Sheffield, IL
14.102
12
8
99
Jeff Larson Freeport, IL
Freeport, IL
14.109
13
18
25FE
Jason Feger Bloomington, IL
Bloomington, IL
14.149
14
14
20W
Justin White Stevensville, MI
Stevensville, MI
14.185
15
7
4X
Jake Rainey Powder Springs, GA
Powder Springs, GA
14.195
16
3
38J
Jake Little Springfield, IL
Springfield, IL
14.262
17
11
15K
Justin Kay Wheatland, IA
Wheatland, IA
14.307
18
13
12
Brandon Queen Keokuk, IA
Keokuk, IA
14.653
19
19
15S
Clayton Stuckey Shreveport, LA
Shreveport, LA
14.768
20
16
42
Johnathan Huston Columbus Junction, IA
Columbus Junction, IA
14.821
21
22
22B
Jonathan Brauns Muscatine, IA
Muscatine, IA
14.851
22
23
17A
Austin Howes Memphis, MO
Memphis, MO
14.930
23
1
17
Tim Simpson Iowa City, IA
Iowa City, IA
15.113
24
24
6
Gary Webb Blue Grass, IA
Blue Grass, IA
15.735